作品展示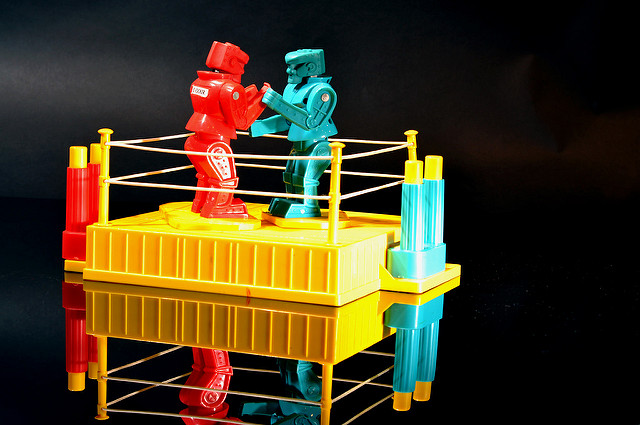 作品製作步驟
What do you think is the product of technology and human desires? Much like how virtual reality is making a move in the adult industry, the violent duel between robots is also on everyone's radar. In the movie Real Steel, every punch excites the audience and brings them satisfactory without anybody actually getting hurt, and with the help of technology, every move and punch looks so much more intense and realistic than ever. Today's robots are being fully developed, and these advantages are all coming to fruition, as though it's to make up for things that used to exist in video games only.
Armored Romance, BattleBots
Want to awaken the violent genes in you? Then watch BattleBots, it's an American TV show based on British TV show Robot Wars. Participants must design and make their own mechanical arms or armored machines, and through multiple levels, these "competitors" will fight against each other in a tournament. The killing techniques they use and the amount of violence are what's so captivating to the audience, the collision, the running over, or the ripping apart, to name just a few. However, since the end of season 5, it had been on a decade long hiatus. It was only until last year did American Broadcasting Company bring season 6 to the audience. The latest season is almost at its finale.
No advanced technology! Loser robots only!
Do you have burning desires to take part in robot fighting but sadly can't? It's not that you're bad, you just haven't found the right contest for yourself yet. In order to give everybody the chance to participate, thoughtful Japanese man Daiju Ishikawa launched the Hebocon to help anyone who can't design to take part in a robot duel. This also creates several "competitors" with over the top designs or are just completely useless. To prevent experts from participating to bully the noobs, there is the "advanced technology penalty" for them, to deduct their points. This completely implements the loser spirit.
Under the influence of this trend, Taiwan has started a Useless Robot Alliance, and held its first Useless Robot Game last March, and in May, there was the Maker Faire Taipei 2015 which is still somehow similar. Since then, Taiwan has been under an atmosphere of "losers." There are quite a few workshops teaching you how to make robots today, which not only make robots popular again, but also inspire a lot of Makers.
Bigger is always better, Giant Robot Fights
What do you think a combat robot is like?
The one from Castle in the Sky? Transformers? Or Gundam? Japanese robot enthusiast organization Suidobashi Heavy Industry released a giant rideable robot KURATAS which is 4 meters tall and weighs 4500 kg. Not only does it have a pair of mechanical arms that look like the Mattel Power Gloves, it's even equipped with twin BB Gatling cannons. A combat robot indeed.
Of course, America wasn't just going to watch Japan become the center of attention. The company MegaBots believes that robot fighting is the future, and aims to fulfil people's childhood dreams, so they created the MegaBots Mark II. It's a giant piloted robot standing 15 feet tall and weighs 12000 pounds. It has the look of a tank, and uses two barrels that fire paintballs as its main weapon.
However, no such thing as equally good, there can only be one. MegaBots couldn't help themselves but challenge Suidobashi Heavy Industry to a robot duel. CEO Kogoro Kurata accepted the challenge and said that giant robots are Japanese culture, they couldn't let another country win this. The two robots will fight in a melee duel to the audience's hearts' content sometime this year, and it is going to wreak some havoc for sure.
Street Fighter Rebooted! Humanoid Robots Fight to the Death!
The closest thing to a real life Reel Steel combat has got to be Robot Combat League, a show that started airing on AXN Taiwan last month. The show was released in 2013 on the Syfy network. It is about humanoid robots fighting, where a participant known as the Robo-Jockey, controls the robot's arms and torso while wearing the Exosuit. The other participant is known as the Robo-Tech, who controls the robot's legs and weapons with two joysticks. It might seem that the robot can't be controlled by one person yet, but this show already outlines what future robot combat is like.
It looks like Taiwan is not in the picture, again? As a matter of fact, Taiwan has its own Robot Boxing League. Since 2012, two major series are held every year, and just to be more friendly for students to take part, the first lightweight fighting series was held last year, opening to robots under 4 kg to fight for fun. Besides single matches, there are various other levels of challenge. The "Big Brawl" is always the highlight every year. Though there might not be imposing giant robots, or the hilarious loser robots, the RBL robots excel at diversity. Their designs and functionalities always surprise the audience, proving that they are just as serious as any other robot combat.