作品展示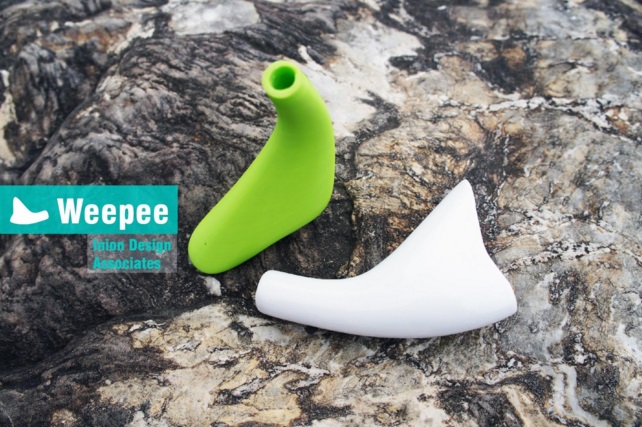 作品製作步驟
Music festivals, camping, and mountain hiking have been really popular in Taiwan for the past few years, but these situations are not too friendly for the ladies when they need the restroom. It might be romantic to have some drinks by the campfire but more often than not the public toilets are a huge mess and not all women are used to squatting in the bush.
The friendliness of a toilet determines how much autonomy a woman owns, and how freely she can explore the wolrd and live in it. According to a poll, 96% of the women had to hold in their pee due to the lack of a suitable, clean toilet. In Taiwan, most public toilets don't provide seat covers or anything to help you clean the seats, so in order to not get themselves dirty, women have to learn to squat to survive! For people who can't squat, like the disabled, or elderly women, too bad. They have to hold it for a long time at work, not drink water for an entire day, or stay at home all the time just to prevent the awkward situation.
As a matter of fact, there have been quite a few products on the market that can help women "pee standing up" to solve the problem of unfriendly toilets, but they are still rather inconvenient. For example, you can't use it while sitting, which immediately excludes disabled women; or they always leak and are hard to clean. Luckily, Taiwanese team Inion Design Associates made the Weepee to solve these problems. With a universal design as its core, Weepee is ergonomic and rigid. It fits your body perfectly, and prevents leakage using the natural airtight space formed naturally by your own body. It is easy to clean and hold with one hand, can be reused, and you can use it with your pants on! Sit down, stand up or even lie back, it's friendly to disabled women, elderly women and pregnant women as well!
Weepee's design team chose a material that is rather uncommon among other similar products, white porcelain and straw fiber plastic. The white porcelain is from Yingge District, which the local ceramic artists burn for several times, and carefully adjust the angle of entering the kiln and how the glaze should be applied. Finally, the pure white poracelain Weepee is made by the ceramic artists' own hands, which comes with mildly moist lines that are soft to touch, unlike the medical nature of most assistive devices, hoping to bring convenience and a bit of lifestyle to the users. Apart from gender and disability, Weepee also pays attention to bringing Taiwan's craftsmanship to a global market, by using everything Taiwanese from design to production. As for the Weepee Outdoor Dao made from straw fiber plastic, it is developed in corporation with Truegrasses, an organization devoted to eco-friendly products. They challenge themselves to the best production methods at all costs, and insist on bringing women convenience and freedom while keeping their bodies and our environment away from harm, to build an eco-friendly Outdoor Lifestyle for women who love outdoor activities and the environment.
Weepee is now on Taiwan's crowdfunding website FlyingV, has been nominated for the Golden Pin Design Award 2015 and received good reviews from the judges, and also won both the Taipei City Government's "Think Design, Gender Friendly Designer" first prize and honorable mention for Ministry of Labor's "Job Redesign Award, Movement Disorder Division."
The idea behind Weepee is to solve the problems different genders or bodies face every day, and also to raise awareness of dysfunctions in our daily lives through products like this. Let us hope that women's toilet convenience will one day have a complete makeover, and other physiological needs will be respected and supported as well.