作品展示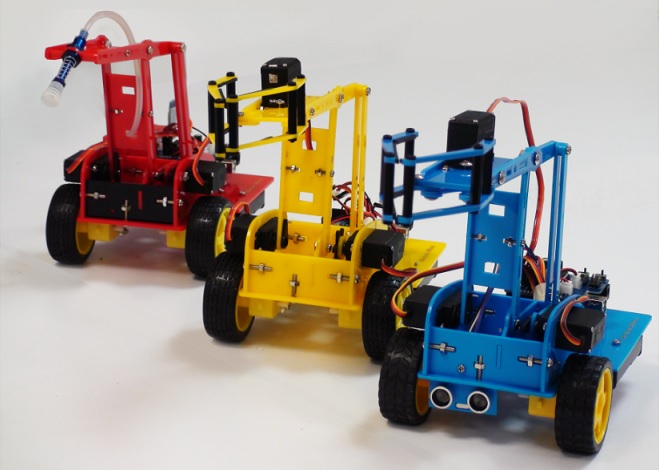 作品製作步驟
"Can ordinary robotic arms still satisfy you?"
After the success of the meArm.Joystick Robotic Arms crowdfunding in 2014, the Mobile Maker Institute(行動創客學院) has held over one hundred workshops across the nation and into remote areas. They are now presenting the Kinetic Arm Vehicle, a combination of kinetics and artificial intelligence.
The open source educational robotic arm vehicle uses ultrasound to measure the distance between objects, then moves its claw to grab an item automatically. The claw itself and the vacuum suction cups are all modular, you can switch them any time you want. It also gets an upgrade in its control scheme. Besides using the traditional buttons on a mobile phone, you can also control it with a mobile app through bluetooth, and have a more intuitive, simple experience. This small yet powerful Kinetic Arm Vehicle requires only heavy duty lithium batteries to be propelled.
Besides having fun, you can also learn a lot from it. The Kinetic Arm Vehicle provides not only the typical control scheme but also source codes and examples of C, Scratch and App Inventor 2. It's great for playing by yourself, for children with their parents, and students with their teachers. To many players, the Kinetic Arm Vehicle has infinite potentials, because its software, firmware, hardware and mechanisms are all open source, any user can make modifications out of them. This model is under the CC-BY-SA license, as long as you give appropriate credit and distribute your contributions under the same license, you can modify it however you like!
Still can't decide whether to buy it or not? The Kinetic Arm Vehicle had been on display at the Syntrend Creative Park until 4/24, and will be offering workshops all across Taiwan in May, so jot it down and don't miss the experience. You can also show your support for the Kinetic Arm Vehicle on their flyingV, Taiwan's crowdfunding website, right now: https://www.flyingv.cc/project/11932