作品展示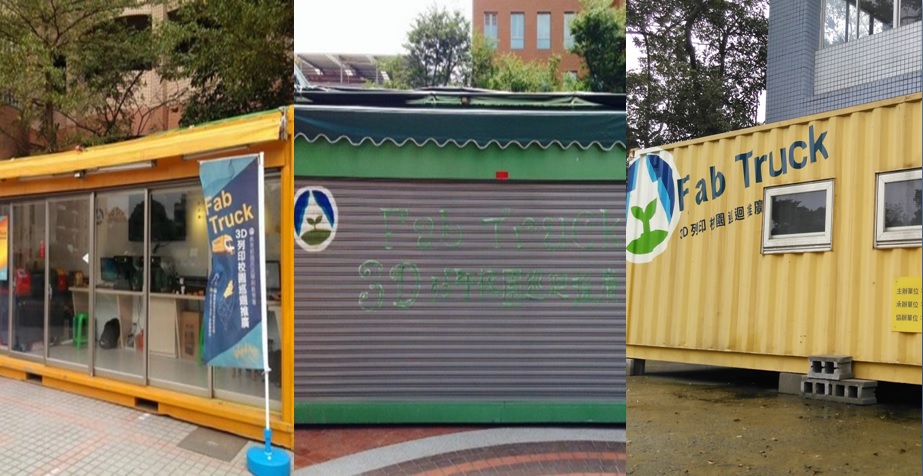 作品製作步驟
The 6 Fab Trucks and their 6 teams from National Tao-yuan Agricultural & Industrial Vocational High School, New Taipei Municipal New Taipei Senior High School, National Taichung Industrial High School, National Tainan Second Senior High School, National Hualien Industrial High School and National FongShan Senior Commercial & Industrial Vocational School, will not only take part in the "Cross-country Truck Race" with their own "Cross-country Trucks," each team will also build a "Sumo Truck" on-the-spot at the TAF Innovation Basefor the "Sumo Truck Race."
Want to know the teams? Well, let's meet them:
National Tao-yuan Agricultural & Industrial Vocational High School, representing all regions
Led by Mr. Chen Hongzhe(陳弘哲) and Mr. Zhou Chongji(周崇吉) from the Internship Office, these 6 Biomechatronics sophomores, Ding Hongyu(丁弘宇), Quan Youchen(全祐辰), Lin Bolin(林柏霖), Song Yixiu(宋亦修), Zhan Junneng(詹鈞能) and Huang Zhiyi(黃智毅), specialize in electrical and mechanical engineering, and together with their creativity, they have gained a significant advantage over other teams. Mr. Chen(陳弘哲) said that the school encourages learning-by-doing, and as a teacher, he would guide the students to do what they want to do, and help putting their creativity into practice.
Cross-country Truck and Sumo Truck
Their Cross-country Truck is designed around the idea of a Jeep, and is a 4WD similar to a Tamiya Mini 4WD. With its huge tires it can easily travel on different kinds of terrains, do a 180 degree rotation, and go up a 45 degree slope, a tough truck indeed! For their Sumo Truck, they plan to give it tracks like that of a tank, 3 servomotors to control the angles and RPM, and 4 sensors for ultrasound, light, color, sound and touch. It will be controlled by a smartphone that is connected through Bluetooth to a Lego Mindstorms NXT.
New Taipei Municipal New Taipei Senior High School, representing the Northern Region
The team consists of 6 sophomores, Cai Yu'en(蔡昇恩), Shen Zhiyu(沈致瑜), Geng Yehong(耿業宏), Xu Yuting(徐鈺婷), Lin Weichen(林韋辰) and Xu Youhong(許右宏), from the Department of Mechanical Engineering and the Department of Technical Drawing. These two seemingly unrelated departments actually made up for each other's shortcomings during their cooporation. When Fab Truck came to their school, the students saw 3D printer and laser cutter for the first time, and understood how a piece of technical drawing was turned into a physical object. This was an unforgettable experience for them, so their teacher Mr. Lu Jianbang(盧建邦) decided to go with the theme of 3D printer and laser cutter, and successfully led the team to make their first 3 trucks.
Cross-country Truck and Sumo Truck
Their Cross-country Truck also has huge tires for rough terrains, and its body is made of different materials like acrylic and wood. As for their Sumo Truck, whose ultimate goal is to push the opponent to the ground, so it's designed to have tracks to give it a stable base just like a real sumo wrestler who's ready to face his opponent!
National Taichung Industrial High School, representing the central region
When asked about the 6 team members, Lin Guanbo(林冠伯), Bai Chengfeng(白承豐), Chen Shibin(陳世彬), Hu Guokai(胡國楷), Xu Junwei(許峻瑋) and Chen Zhengyue(陳正岳), Mr. Xiao Minyuan(蕭閔遠) from Department of Mechanical Engineering said that he was only trying to recruit students who were interested in 3D printing, but turned out discovering everybody's potentials in 3D printing, CNC processing, and even designing and assembling, you name it! These 6 juniors have already passed their exams, and are gearing up for the competition.
Cross-country Truck and Sumo Truck
In order to be prepared for any unknown terrain, the team used the Arduino Uno R3 board to control both rotation directions of their dual motors, so that their Cross-country Truck can easily climb up a 45-degree slope, and with the help of large-diameter tires and a waterproof oil pan, puddles are no longer a problem. For their Sumo Truck, the team thought about going a little "head-on" and equipping many weapons, but considering it might actually break opponents' trucks, they made it "defensive" instead. They 3D-printed a collision-resistant exterior with 100% fill rate, gave it a low ground clearance, a rectangular body and improved its interior design to make it stable. The truck's way of attack is relatively mild, its front is equipped with a slant board for both attack and defense, and a Japanese Tamiya motor is added in to boost its propulsion.
Have you learned enough about these 3 teams? If you want to support their work, be sure to vote for them at the streaming website LIVEhouse.in! (You can find out more about the other 3 teams here: Let's Be Makers! Introducing Six Fab Truck Teams From Different Schools: Part 2)