作品展示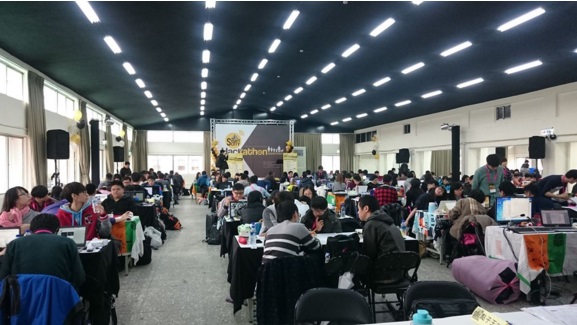 作品製作步驟
"Congratulations to Doers No. 49 and Noise Airdrop for winning the Smart City Hackathon Jury Prize of NT$500,000…"
The 30 hours of the Smart City Hackathon had been amazing. We hope you have the same experience the next time you go to a hackathon. After all, the reason I participate is to win. The participation part might be important but the winning part is always more pleasant. Mao Zedong once said, "Fight no battle unprepared; fight no battle you are not sure of winning." My strategy is that there are shortcuts to win Taiwan's hackathons, which I will talk about whether it's good or bad later. One day when I organize my own big contests in the future, which will happen, with my prize money perhaps, I still need to think about how I can make everybody happy, instead of just offering big prizes.
The site of the Smart City Hackathon, TAF Innovation Base.
Can Hackathons change the world, or are they just for fun?
I call this a strategy guide because many popular hackathons are simply products of gamification. More and more rules are changed because of gamification. Life is a game, and you might forget to sleep playing it
Hackathons in Taiwan can be traced back as early as the Intelligent Ironman Creative Contest, but this generation loves to follow rules. As long as they are locked up in a place, they can easily come up with ideas they would otherwise never think of, just to be part of a big event.
I have participated in several hackathons and won prizes in all of them, which I like, but what I like even more is analyzing them.
The Smart City Hackathon organized by the Industrial Development Bureau was a typical competitive hackathon in Taiwan. Since last year, I have been sick of this kind of hackathons, which is basically a contest of talking smack, writing proposals, or doing presentations. There is hardly any making of anything. What exactly should an organizer do to improve this situation, is the important issue here.
When you break it down, there is only 29 hours between 10 am the first day and 3 pm the next day, and the presentation is only 3 minutes long. Despite our passion for hackathons, we still need to finish it beforehand, because we're not geniuses.
Win or lose depends on how you think
"How to change the world in a hackathon?(Your hack your growth)"

"Not feasible."

"Good idea → finish the product → not in time for presentation."

"Feasible."
Consequently, it becomes "Good idea→ good theory→ Minimum Viable Product→ super OP presentation → get praised→ high exposure→ finish the product→ change the world" In order to make full use of the 29 hours, "finish the product" has to be put at later stage because it takes too much time. This strategy focuses on 3 principles: good idea, good theory, and good presentation. Once you have mastered these 3 principles, you can do anything you want to do, even change the world, and stop playing the blame game.
Before I start describing these 3 principles, I would like to introduce my hackathon team. We are four students from different departments namely Department of Electrical Engineering, Department of Design and Department of Medicine. We have all made various proposals of our respective favorite topics, and we all have our own designing side jobs. The day of the contest was the first time we met, started brainstorming and making things.
There are two kinds of people in a hackathon, one is the "false start runners." They bring their graduation projects to the contest and modify them, and they usually get 0 score for being off topic; the other kind is the "obedient runners." They often can't find enough time to fulfil the 3 principles, and lost. Luckily, as obedient runners ourselves, any of the four of us can easily master the principles. When we are put together it's always multiplier effect just like magic. Perhaps this is what a hackathon is supposed to be.
Back to the principles, as long as the following three boxes are checked, the mission is almost accomplished.
Strategy on choosing the topic
"A great idea can change the world." The idea that lets you conquer a hackathon is usually one that "creates tremendous profit, from an obvious problem, with a small gesture." Just like how Yi-Ting Cheng's class, Growthack, it is able to bring your hackathon score from 20 to 60 and impress everybody. For this hackathon, we had it planned like this:
Good idea: Create tremendous profit, from an obvious problem, with a small gesture.

Good theory: Information with sources, feasible proposals and gorgeous copywriting.

Good presentation: Fun prototype, impressive speech, astonishing poster, animation, and props.
Strategy No. 1: Good idea
Choosing your topic is both difficult and fun, if there's any reasoning behind it it's design thinking. To quote what Teng Shanyuan said, design thinking is a part of human behavior just like eating and drinking, so there really isn't much to talk about. Here is a photo of our discussion process during the hackathon:
In short, your demands come from your own experience. The more you see the bigger burst you get, and when your team is full of people like this things take off fast. We took less than two hours to decide our topic. BTW, I am glad I took the Advanced cardiac life support class, or I wouldn't be able to think that fast.
We started discussing at 10 and decided our topic at 12.

Strategy No. 2: Good theory
What makes us different from other teams is that we take user experience very seriously, and we don't focus on what IOT can do. It's a decisive difference between "making a big deal out of something small" and "making a small deal out of something big." The former definitely gets more praise in contests with higher feasibility like hackathons. However, if you base your idea on what IOT can do and keep going from there, you will have a hard time achieving anything. PM 2.5 monitoring devices, traffic sign management systems, citizen service apps, these are all fun ideas but difficult to implement.
"What can IOT do?" "Making a small deal out of big things."

"Who has problems that need solved?" "Making a big deal out of small things."
I can't say I have mastered some kind of theory, but my thoughts are somewhat comprehensive. Our plan was so detailed that even "stereo design," "zero to hero psychoanalysis," "multi-purpose design of the AED handle," "official promotion project: brainwashing sound broadcast," "from initial trial to final forcible execution" were all set and ready for a challenge, but there wasn't enough time though we were fully prepared.
We used Quip as our cooperative tool for this contest. It fits the "short burst, high interaction" nature of a hackathon very well.
Strategy No. 3: Good presentation
The most crucial part to scoring high in a hackathon is the presentation. Either in a slideshow or on a desk, it requires a lot of visual, and visual is always about good-looking(to extend the time of staying), and dynamic(to leave impression).
In 29 hours, we made a functional prototype, a stylized prototype, an animation, a large poster, a dummy, and a self-introduction just for laughs. It was a little overwhelming to me, but perhaps the four of us were already used to this amount of work in our individual designing lives, when we were working together we didn't feel stressed out.
A demo of all our works.

Text broadcast at that time: https://www.facebook.com/photo.php?⋯⋯
As for how to set up your visual highlights to make the judges fully understand in 3 minutes, it requires practice. It is also not common that everybody in your team wants to talk at the same time.
The presentation has always been about being cocky, which includes extremely short self-introduction, bragging about being medical students, threats, offering solutions, unaffordable pricing, simulation skit, field practice, smug conversation, and so on.
After the hackathon
A hackathon should not be the end of a contest, instead, it should be a great opportunity to expose yourselves, a great place to showcase your ideas and a great time to interact with interesting people. It's a starting point to push your product, through a little challenge, you can greatly reduce the time it takes to change the world. This has been my short strategy to help you accomplish something.
Last but not least, have a look at my favorite picture. This strategy guide has ended, I hope you enjoy your future hackathons, and have learned something about life from this guide.
Technology creates possibilities, design solves problems, art generates thoughts, charisma brings all possibilities.
This article is a repost from the author's Facebook, and has been edited with his consent.