作品展示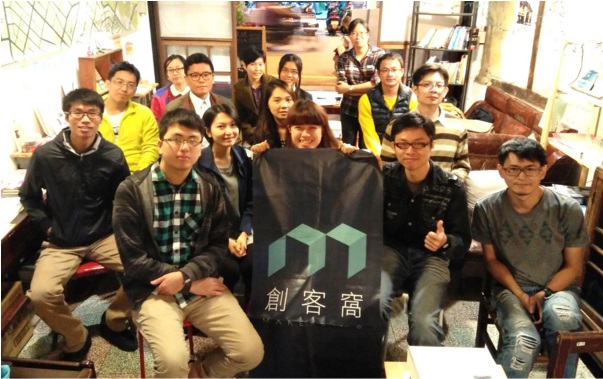 作品製作步驟
"In America, being handy is a common thing, much more common than it is in Taiwan. When I was little, my parents would get really upset whenever I dismantled something, but things are different now, we encourage dismantling even if it can't be fixed." Said the founder of 3DPC and Maker platform Maknet, Shin-Chi Lai.
At the invitation of the "Makers and the Community, the Progress of Education" event, Lai shared with the audience why he, as an engineer, left the Hsinchu Science Park, devotes himself to 3D printing and Maker movement, and how he inspires people to find their values.
Do it just for fun
"People still think that Maker is the same as DIY, which I want to reiterate, being a Maker means to create new things with digital technology and various open sources." Said Lai.
After receiving his master's degree, Lai went to work at the Industrial Technology Research Institute and Hsinshu Science Park for 8 years, and also started a Maker book club and the WeSchool MakerSpace. Until 3 years ago he decided to start over from what he does best, and founded 3DPC in 2013, offering courses on 3D printing technology.
"3D printing is nothing new, but how did it become so popular? Because the patent expired. It's been more than 20 years since 1989, and everybody can now use it legally. A printer used to be over 2 million dollars, its quality was worse than the budget model I'm using now, and the technology itself is spreading along with each printer sold, what's not to like! Why did Steve Jobs choose to build his personal computer brand, instead of working for IBM? I believe that's the same reason I left Hsinchu Science Park to do my own 3D printing workshop."
On the basis of ubiquity, Lai focuses on introduction and education, to help people do it just "for fun." "To interact, to make friends, or just to have some fun, are all good reasons to start. We believe that most creative ideas come up spontaneously, sometimes you don't plan to achieve any result but end up having something better than you expected." As for the frequently asked questions like "how do you mass produce this thing you made?" and "how do you profit from being a Maker?" Lai has this to say: "If all I care is money, I wouldn't have left Hsinshu Science Park."
3DPC has very clear goals since it was founded, to inspire creativity in people, and to help children develope Maker spirit. "Unlike children in Germany who learn coding since elementary or even kindergarten, Taiwan's professional education is too slow, and offers too little space for creative children."
"Most of our customers are beginners who are not good at 3D graphics, and have no Maker experience, so it's like a boot camp for Makers. However, during the course our promotion, we did find these young people and children to be very creative. They often develope things that are simple yet innovative. We have an 8-year-old who thought his mother had a rather large, heavy smartphone, so he 3D printed a much better dock for her."
Maker movements come in various forms, courses, workshops, exhibitions and hackathons, all aim to inspire people's creative ideas and put them into actions. "We have held the Hebocon Taiwan Workshop in the past, using 3D printers to create robot components and let our students assemble them; we also let them design the employee ID badges they wear every day. While working with the National Chiao Tung University Innovation Incubation Center, I brought as many as eight 3D printers to demonstrate how it was done, and they all thought it was cool and had a lot of fun. The interaction was fantastic. Other people have been using this method as well, which we are very glad to see. There are just too few Makers in Taiwan, we need everybody's help to build up the community and bring us all together."
Creations and Open Sources: We're All Chaplins
"Maker equals not entrepreneur, but some of the general ideas and principles are close." Said Lai
A Maker is made of 3 things: learning, making and sharing. "There is always something new in the market, and learning a new thing could just make your work a little better; the same goes for entrepreneurship, you can't survive just by thinking and writing proposals, you have to go out and make things happen. Lastly, for sharing, despite in Taiwan we are still told to protect ourselves from plagiarism, the Maker community should remain open. The budget 3D printer from the open-source Arduino is a great example, it allows everybody to create things for little to no cost, and that is true Maker spirit."
Lai took Charlie Chaplin as an example. This great comedian lived through the First and Second World Wars when resources were scarece and you had to do everything by yourself. As a pacifist, Chaplin had made several satirical films about industrialization and wars, one of them is the famous Modern Times, which people often find humorous yet true. Einstein once even said to him: "What I most admire about your art, is your universality. You don't say a word, yet the world understands you!" Chaplin replied: "True. But your glory is even greater! The whole world admires you, even though they don't understand a word of what you say."
"I think a Maker is just like Chaplin himself, he has to make use of limited resources to create new values, that everybody can understand and share among themselves."
Put together all possible resources, and help Makers spread their great ideas
"If you start from scratch and make something great, but put everything to an end once you have learned your lessons and finished your work, it would still be a pity, and it's especially common among amateur Makers. To improve this situation, and provide Taiwan's Makers with more opportunities to share and learn, me and my partner Belinda(林虹君) founded Maknet in February, 2015."
Combining Maker and Net, Maknet not only invites Makers of different backgrounds to share their experiences but also collaborates with some major organizations, like putting together the equipments and workspace from Kick2real Maker Space and borrowing venue from New Taipei InnoSquare, and offering courses with 3DPC, Studio J and Mobile Maker Institute, and resources from media like Makerdiwo, Techbang and the Hackathon Taiwan community. "We want to make up for the social interaction and marketing channels which have been rather lacking, to keep helping Makers spread their great ideas."
"I don't think being a Maker means you have to also be an entrepreneur," he added in the end, "the important thing is to put your ideas into practice, like why I have my own company, it's simply to bring a new way of thinking to Taiwan."