作品展示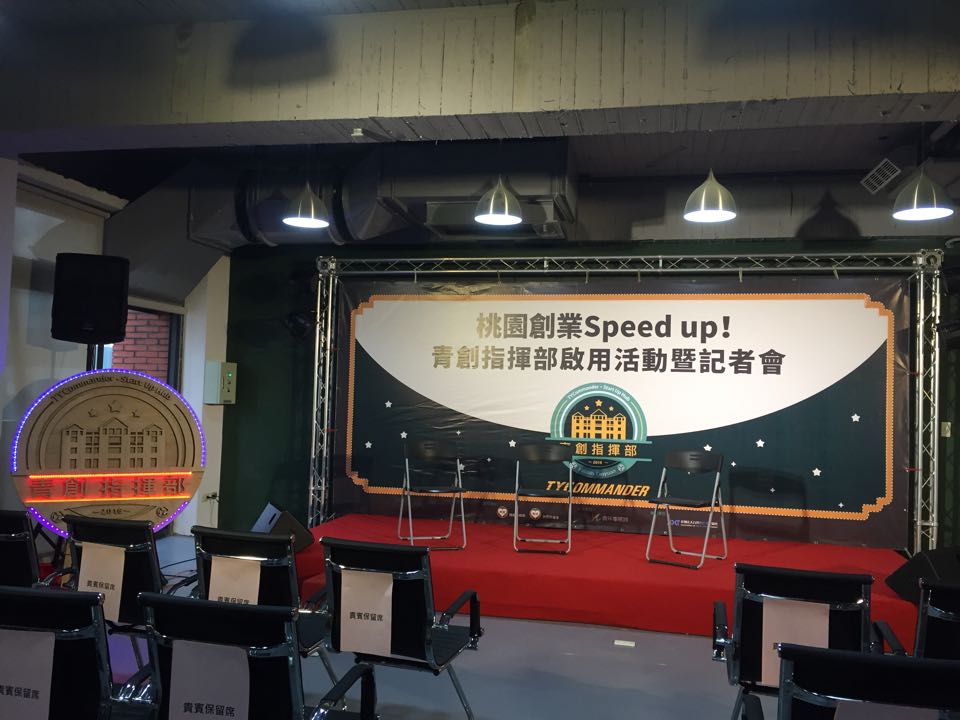 作品製作步驟
The long-awaited "Taoyuan Youth Commander" organized by the Department of Youth Affairs of the Taoyuan City Government has officially opened on March 13! The launch event and press conference was held on the third floor of the department. This community space that combines startup consulting and maker resources is the first stop of the "Taoyuan Innovative Startup Ecosystem" outside the city.
Riding on Taoyuan's industrial success and turn youths into entrepreneurs
Mayor Cheng Wen-tsan of Taoyuan, President Liber Chen of the Department of Youth Affairs, Executive Officer Dshi-chi Liu, Association of Digital Culture, Taiwan founder Tim Shyu, and many other important councillors, specialists and people from the community were all present for the event and had a great experience meeting one another.
"The Taoyuan Youth Commander covers an area of about 992 square meters, and adopts the low-cost pay-as-you-use system for selected members. 3D printers and various other maker equipments are provided within the space. Experts and consulting teams will be invited as well. All 16 universities in Taoyuan, together with National Taiwan University of Science and Technology and the Affiliated Tao-Yuan Agricultural & Industrial Senior High will soon be merged so that students can have more opportunities and assistance in starting their own businesses. I believe that being the city with the most youths, Taoyuan should become the youth startup base of Taiwan." said Mayor Cheng in his speech. He also promised that two youth startup centers will be coming to Andong Road in the northern region of Taoyuan and the Xinming Market Building in the southern region this year; while one of the locations of the "Silicon Valley of Asia" project will also be at the Taoyuan Youth Industrial Park in Yangmei District that covers over 100,000 meter square in area, and it's called the "International Youth Startup Village." Besides small offices, factories, performing spaces, the Taoyuan Youth Commander will also be organizing exhibitions, forums and hackathons in the future.
Tim Shyu, the founder of space management team the Association of Digital Culture, Taiwan, said that the planning and scale of Taoyuan Youth Commander are no slouch when compared with other countries, and Taoyuan has a much stronger foundation in manufacturing, which gives them a great advantage. He also hopes that more youths, entrepreneurs and makers can be inspired by this amazing place to create even more possibilities.
The opening ceremony of Taoyuan Youth Commander is full of creativity in itself, with all the guests unveiling the exquisite "Youth Commander" wooden mark made by the Taoyuan Maker Association with the laser cutter provided by this space, which symbolizes and anticipates more experts to come together and cooperate.
Nearly 1000 square meters of space: Taoyuan's first coworking space for makers
The Taoyuan Youth Commander is located on Huanbei Road, Zhongli District, and is close to the Taoyuan HSR Station, Zhongli Sogo, Zhongli Station and Taoyuan International Airport. It is also the first innovative startup base that combined coworking and maker space, and runs as a Startup Hub to provide links to startup courses and resources, and satisfies the needs of social gatherings and small business conferences for many youths. Within the 992 square meters of space, over 100 seats of coworking space, 132 square meters of Maker Space, 4 individual offices, 1 conference room, 1 classroom and 1 lounge are provided.
The first member of the Taoyuan Youth Commander is Miss Liu(劉季媛), a former software engineer who has been keen on youth activities and maker gatherings. She is currently working on the sample of a product that used to be just an idea, and she hopes to make good use of the resources in the Youth Commander for her future startup.
Arklab, the team that develops drones and their system integration professionally, has already applied for an individual office. They have created over 20 drones for various purposes like environmental monitoring, security and stage performance. Founder Chang Tung-Lin said that the Youth Commander is close to the main roads of Zhongli, and also has a conference room and a multi-purpose performing space. Its geographical advantage and spatial planning are great for the team to meet guests and showcase new technology, which is why they want to put their continuing education team in the Youth Commander. Through Taoyuan's strong Maker community and excellent startup environment, they are hoping to promote the STEM education of applications and drones to put into practice the learning-by-doing Maker spirit.
On the establishment of maker space, founder of Taoyuan Maker Association, Kevin Lai, said that there already are plenty of individual makers scattering all over Taoyuan. In the past year, whenever there was a community gathering, they couldn't find a suitable space to share new technology among themselves, plus many of the maker equipments are expensive. Now that they have the Youth Commander to provide them with various equipments and a space to share things, they can make a lot more products and offer more maker courses, and build an even stronger community in the future.
After introducing all the functionalities of the space to the guests, they were invited to hear the speeches given by investment associate Norman Chang from seed money and startup accelerator 500 Startups, Chief Executive Officer Paul Wu from the global provider of mobile Internet services and products General Mobile Corporation and Chief Editor Kuo-Wei Cheng from tech news website PanX, on the topic of "The Social Energy of Entrepreneurs," and discuss the global trends of startups and the future opportunities of Taiwan.
Once the Youth Commander launches it will be members-only, and will also offer services like startup consulting, courses and gatherings in 2016. During the press conference, many people signed up for membership, and anyone who is interested in startup and being a maker is still welcome to join the Taoyuan Innovative Startup Ecosystem!
The Youth Commander:
Open Sunday through Monday, 0830-2130 (During the trial period everything but the team offices will be free of charge, so feel free to have a look and sign up)

Address: 3F, No. 390, Huanbei Rd, Zhongli District, Taoyuan City, 320 (3F, Department of Youth Affairs)

How to apply:

1.Online application form: https://goo.gl/AxzFRK

2.Team application regulations: https://goo.gl/E0qm4t (Deadline for the first wave of teams to move in is 3/31)

3.Online facility request form https://goo.gl/forms/JkPrx7kqlQ