Maker | Government Resources
In "Maker", the documentary, describes the Maker Movement as the following, "We the maker want to change the world, just like hackers in transforming the computer world. Self-makers are not accepting the status quo easily. This is the self-declaration."
Maker gets no satisfaction from the status quo, thus giving way to change-making. They are not mere amateur technology fans, but yearn to build prototypes for the next generation device, and hope to transform manufacturing in innovative ways, eventually even to every industry in the world.
Makers mostly are self-starters by nature. That's why most of them would initiate searching for assortments of resource provided by industry sectors, government agencies and academia, to help turn ideas into reality. In the process of turning idea to finished product, maker usually goes through four major stages, comprised of finding an inspiration, learning a know-how, securing a space and funding. As Maker movement in Taiwan is gaining increasing attention, the government for its part has also aggressively invested resources in the above four stages, assisting makers to gain a firm foothold on the frontal wave of industrial innovation.
The first Stage(Enlightenment)—Finding Inspiration
With the popularization of long-standing nation-wide compulsive education, the old school of "Everything Only Learning By Teacher Taught" had been the norm and deeply rooted in the national psyche. While "Do It Yourself" type of learning has been put on the back burner, thus in turn became a patent for hard laborers. Students, accustomed to class passive learning, may quietly absorb information and knowledge without engaging in the learning experience.
To instill innovative energy into the campus, and to seamlessly combine knowledge with hand-worked effort, the government has vigorously promoted projects such as Maker Classroom and "Fab Truck" in recent years. In this way, young students could have the opportunity to gain enlightenment of maker education within school to facilitate developing the ability of active problem-solving with innovative methods and to face the future challenges.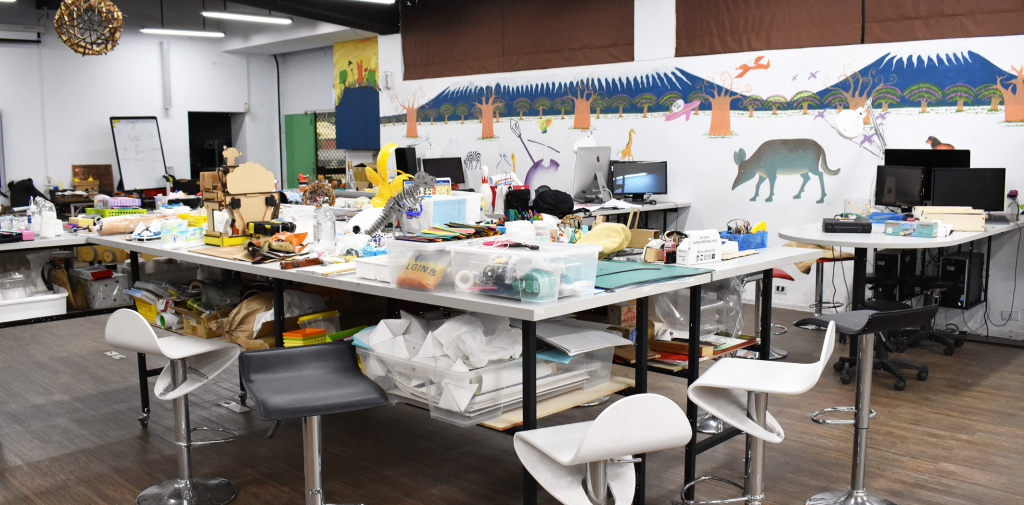 In 2015, Department of Education of the New Taipei City Government took the lead in establishing the first Maker Classroom inside public high school at Banqiao Senior High School, followed by similar effort at Jinshan Senior High School, Zhonghe Senior High School, New Taipei Senior High School, Yingge Vocational High School and GiSui Primary School and so on.
Maker classrooms in Banqiao Senior High School are equipped with sufficient and diverse machines such as 3D printers and laser cutters, with which student can create freely either during lunch breaks or after-school hours. Students' creations are always beyond limitation. Students take advantage of machine resources from school to design cleaner robot with different functions, including flying robot in the form of a four-axis drone, stair-climbing robot and even floral float robot shaped by the principal.
Maker classroom is not only open to students at school, also extensively inviting outsiders to experience it. All participating schools often organize regular events such as maker workshop and digital fabrication teachers' training, making classroom to be the home base for maker spirit, thus spreading the spirit all over the place.
Since the maker class of New Taipei City has received widespread good review, Taipei City Government and Keelung City Government have also followed suit. In 2017, Education Department of Taipei City Government and the Nangang Vocational High School jointly established the Maker Fab, launching 10 courses of practical training in both 3D drawing and printing, the first of its kind in Taipei that opens the maker facility of a vocational high school for the general public to experiment. In the same year, the Keelung City Government also announced the opening of Smart Maker Classroom in 21 schools within its jurisdiction, and incorporating nascent knowledge such as the Internet of Things(IoT)and Algorithm computing into curriculum.
In addition to fixed-locale maker education promotion, the Ministry of Education launched a two-year roadshow Fab Truck program in 2014 to help Maker spirit take root across the country. The 3D printing, mobile laboratory was converted from 6 containers , carrying 3D printers, CNC lathes and cutters, travelled through-out Taiwan, organized workshops at teaching sites, enabling both teachers and students to experiment with hands-on practice. In two years, Maker trucks had visited 500 schools, in the process helping popularized makers' spirit, and thus planting an enlightenment seed in the hearts of all Taiwanese students.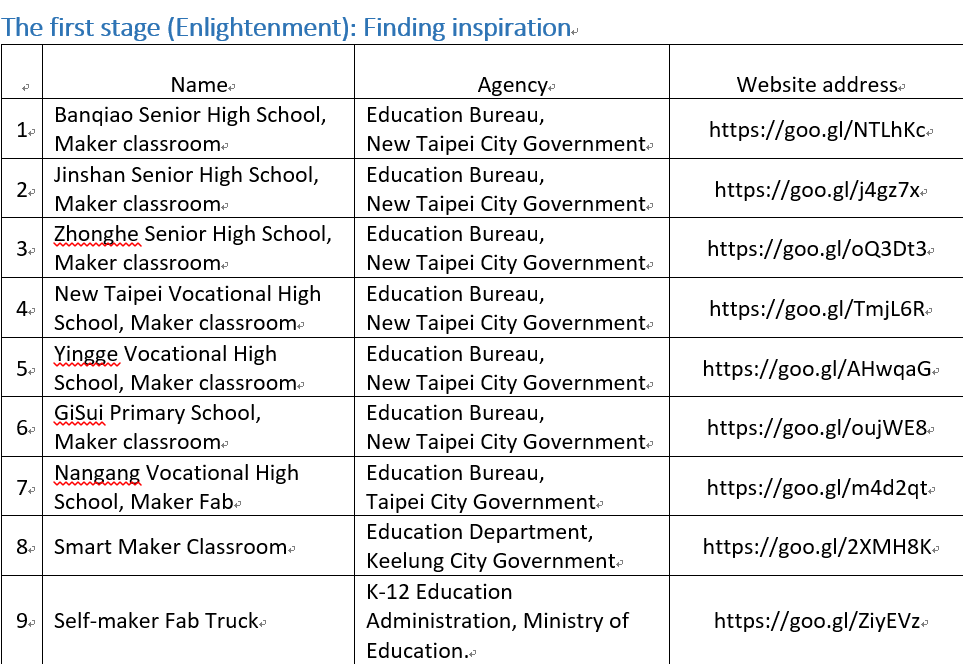 The Second Stage(software)—Learn a Know-How
After getting the first taste of hands-on practice, you could then take advantage of the online teaching resources provided by the government in acquiring maker skills for free, other than studying at school, if interest persists in further learning about related knowledge.
In the Makerchain Self-Make Tandem Platform set up by the Labor Bureau of the New Taipei City Government, it contains the basic operation films of laser cutter, CNC engraver, Arduino-developing circuit board and other introductory tools; and in the VMaker, Taiwan Maker, website, which was first promoted by Executive Yuan(now operating under Workforce Development Agency, Ministry of Labor), there are more lecturing videos with operation knowledge for advanced equipment, such as the likes of aerial drones, table-top drilling machines and small lathes.
In addition, vMaker website features nearly 400 information and skills of creation by makers, such as vending machines made with Arduino developing boards, LED note/almanac and smartphone App controlled toy cars, containing all-inclusive component material listing, required tools and fabrication process, in line with the open-source spirit of makers resource sharing. Therefore, future generation could build on this foundation of experience laid by their predecessors, and make good use of collective wisdom in creating more works with greater potential of commercialization.

The Third Stage(Hardware)—Secure a Space
Upon acquiring the basics of tool/equipment operation, the next step is to apply it to the physical maker space in creating unique work that is one of a kind. The Workforce Development Agency(WDA)of the Ministry of Labor has set up 5 locale-themed maker bases affiliated with WDA, providing equipment and hands-on practice, comprised of IoT Maker Base in New Taipei City, TFF Maker Space in Hsinchu City, TCN Maker Base in Taichung City, Southern Maker Base in Tainan City and Maker Inn in Kaohsiung City.
Located in the Wuku District of New Taipei City, the IoT Maker Base is nearby the New Taipei Industrial Park, a major industrial hub of New Taipei, with smart IoT development as the main strategy, focusing on Arduino-, Webduino-developing boards application, and designing practical appliances such as robotic arms or smart service robots. In addition, the IoT Maker Base also organizes non-regular workshops where people could participate to gain hands-on practice in work such as self-made LED neon lights on Arduino-developing board.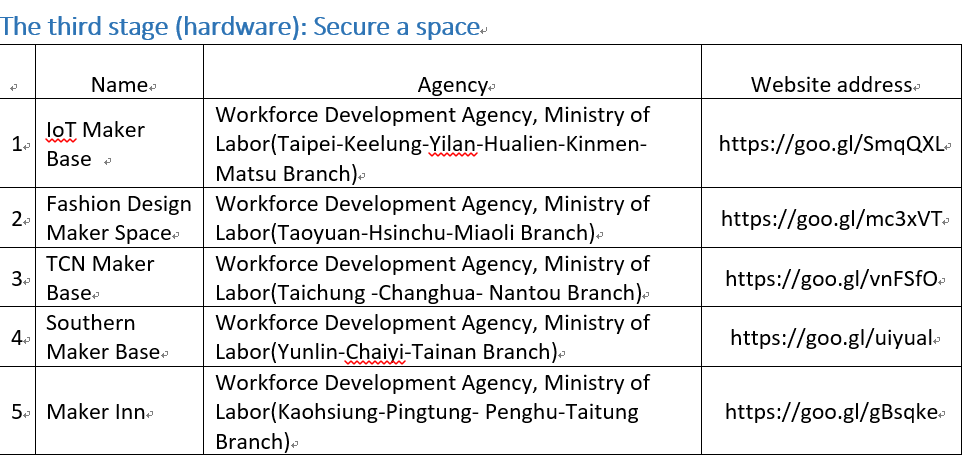 I-Chee-Fei-Hsiang, literally means together-fashion-flies, thus the name Fashion Design Maker Space, located in the Northern District of Hsinchu City, is the only maker base in Taiwan that caters to clothing(generic or functional)production. Not only does it provide sewing machines with various functions, also has clothing design related courses such as pattern proofing and sewing machine operation, even to the extent of combining local Hakka characteristics in launching workshops such as blue dyeing and silk screen printing, enabling makers to produce small quantity of customized product. In 2017, the designer team of Fashion Design Maker Space launched the "Pet Raincoat" by using waterproof and breathable functional fabrics to keep pets from getting wet in raining days.
Located in Taichung City's Yizhong business district, TCN's maker base got its name 'T'echnology, 'C'reativity and 'N'ew Vision. In addition to providing free hardware, it also promotes smart life themes, in connection with engineering technology, and hosting related workshops and training courses in printing environment-friendly flatware bags with sublimation transfer machine, and making charming photo frame night light with Mini CNC engraving machine, etc., thus attracting young students to join the ranks of makers.
The Southern Maker Base in Tainan City is adjacent to the Yunlin-Chiayi-Tainan Agricultural Triangle, therefore striving to underscore the surrounding agricultural characteristics. Makers gathering here have spawned Innovative works such as the Apower Water Hoist that solves the problem of high-terrain agricultural irrigation in an energy-saving way; the Green Power Veg Dry Box that increases the solar energy absorption efficiency through metal plate reflection; and the Smart plant pots that monitors the growth environment of plants by using IoT technology, to hopefully accomplish the ideal of improving both the standard of rural living and agricultural production through science and technology.
Located in Kaohsiung City, Maker Inn lays its foundation on the solid manufacturing of the Kaohsiung- Pingtung area, providing a wide range of large-scale processing tools on site, aiming to become the largest hardware accelerator in Southern Taiwan. For example, a member maker succeeded in developing a set of mechanical knocking mechanism that pre-tests sample quality in semiconductor manufacturing processes, to hopefully reduce unnecessary waste significantly on production line.
In addition to resources made available by various levels of government, the general public(GP)makerspaces are also booming, and most of them combine the functions of community exchange, which fosters makers stimulation onto more ideas and learn from each other through joint brainstorming; for example, OpenLab. Taipei was located in the Treasure Wall of Taipei City in 2010, a bona fide pioneer in Taiwan makerspace. In 2013, Hong Yutai introduced Fablab of MIT to Taiwan and established Fablab Taipei, the first Fablab in Taiwan. Subsequently, makerspaces such as Goodwork and Maker's Attic, successively appeared in Taichung and Kaohsiung, thus enabled GP maker momentum to smoothly spread out to entire Taiwan.
The Fourth Stage—Secure Funding
After using the machine to make product prototypes, many makers would choose to participate in the competition to further verify their ideas. Presently in Taiwan, Bonus Hunter is one such online platform that information on major competitions is readily accessible. Makers can also acquire relevant competition information on platform such as the Million Maker Competition sponsored by the Workforce Development Department of the Ministry of Labor, The Tongji University's Cross-Strait Young Maker Innovation Competition or a variety of maker competitions with different themes.
In addition, the Hackathon competition, basically a group of people on weekend, gathered in the same space to stimulate ideas and create new software designs, is also one of the popular ways of innovating in recent years. And recently there has been a new type of competition spawn in response to this trend, called Makeathon, too a good venue for maker to showcase his craft. Compared with hackathon that emphasizes software development, Makeathon pays more attention to hardware manufacturing. Thus at the competition, it usually provides a variety of hardware materials, such as large-scale carpentry machinery, 3D printers, various development boards and electronic circuit components, enabling the maker to directly translate their ideas into practical products.
At present, the MakeNTU Makeathon organized by the Electrical Engineering Department of National Taiwan University is the icon of Makeathon in Taiwan. But Taoyuan, Taichung and various levels of governments have also taken to organizing local Makeathon competitions.
Finally, if maker is interested in producing a small quantity of products, he/she could look up the maker Yellow Page on MakerChain. It's a self-made maker tandem platform , which lists manufacturers of hardware, plastics, CNC processing and others open to small orders, thus making the product prototype move faster to the market, and exerting more influence.
The Maker wave of Taiwan has been developing for many years, not only relying on the action of the makers themselves, but also on powerful promotion from private sector, government, academia on maker spirit by way of enlightening education, software knowledge, hardware space and financing, etc., to help expedite the completion of processing industry industrialization transformation, thus facilitating the innovative momentum of the whole society.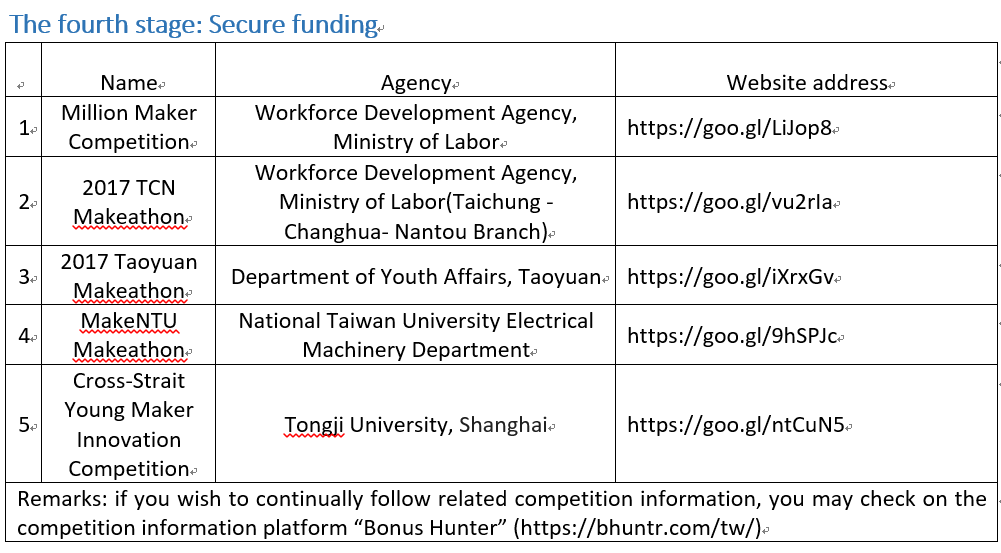 Maker Encyclopedia
CNC:The full name of Computer Numerical Control, translated in Chinese as computer numerical control tool machine. The operator only needs to input the program number in advance, the machine can then perform different cutting or processing steps procedure, without human intervention.
Webduino:The entry-level version of Arduino, through a graphical program, allows users without a program background to easily get started and lower the development threshold.
(Editor:PeiHsuan Lai)