The biggest cash prize in maker community every year "One Million Dollar Maker Competition" is only few days away from announcing the one-million-dollar taker. As a maker yourself, or someone who is interested in innovation and creativity, come to the award ceremony, you can also vote for your favorite team at the event.
12:00-16:00, November 26th, 2016, at the National Taiwan Science Education Center Lobby, the projects and their creators will be shown. You are more than welcome to catch up the trend of being "Makers."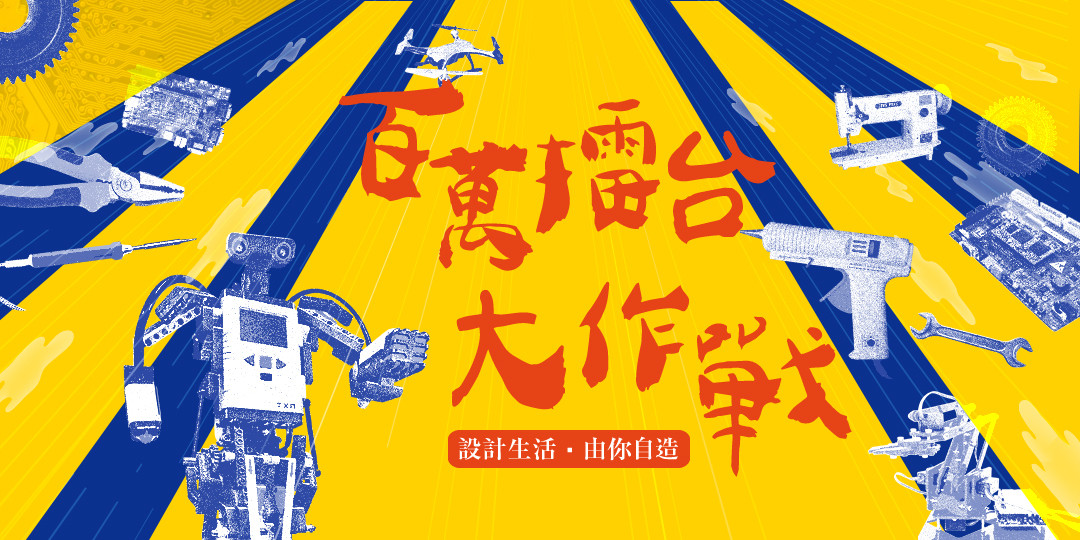 The candidates of most popular team: On Saturday, November 26th, 2016, the teams that participating the final presentation in "2016 One Million Dollar Maker Competition Project Show and Award Ceremony."
Qualification of votes: For those VIPs who brings their invitation of "2016 One Million Dollar Maker Competition Project Show and Award Ceremony" invitation, and the first 100 guests registered at the information desk, she/he is allegeable to ask for ONE voting sticker with their photo ID (including: Official ID Card, NHI Card, Driver license, Passport, Student ID)
Voting Rules:

Each person can only cast one vote.
The stickers must be printed and distributed by the organizer.
Voting time: 13:00 to 15:00, November 26th, 2016.
Voting Locations: at 12 project showing booths.
Voting Procedures: The allegeable voters after visiting the projects exhibitions in "Projects in the Competition Final," can choose one team, and put their stickers at the score board in front of their desired team.
Counting Votes and Award Ceremony: The organizer will count the votes after the voting is over. The team with most stickers will win the "Most Popular Project," and will receive the award during the award ceremony.
Ruffle Rules:

Participation Rule: Anyone with the popular vote sticker has a ruffle ticket. Participants must print their name and telephone number the the tickets, and deposit the tickets in the ruffle box at the Information Desk.
Ruffle Procedure: 15:00 November 26th, after the votes are counted, the host will pick three ruffle tickets from the ruffle box. The three tickets owners will receive prizes.
Ruffle Prizes: "Ugear Mechanized Business Card Holder" was made in Ukraine worth over NTD 1,000. It is a mechanic wood model, and it does not need electricity power. It does not require glue or any special tools to assemble. By manipulating the levers on the sides, the box will reveal the content inside. It is the coolest way to show your business card.

Ruffle Prize Collecting: The ruffle winner can collect their prize at the ceremony (Photo ID required), if not collected at the event, the organizer will contact the winner for the delivery.