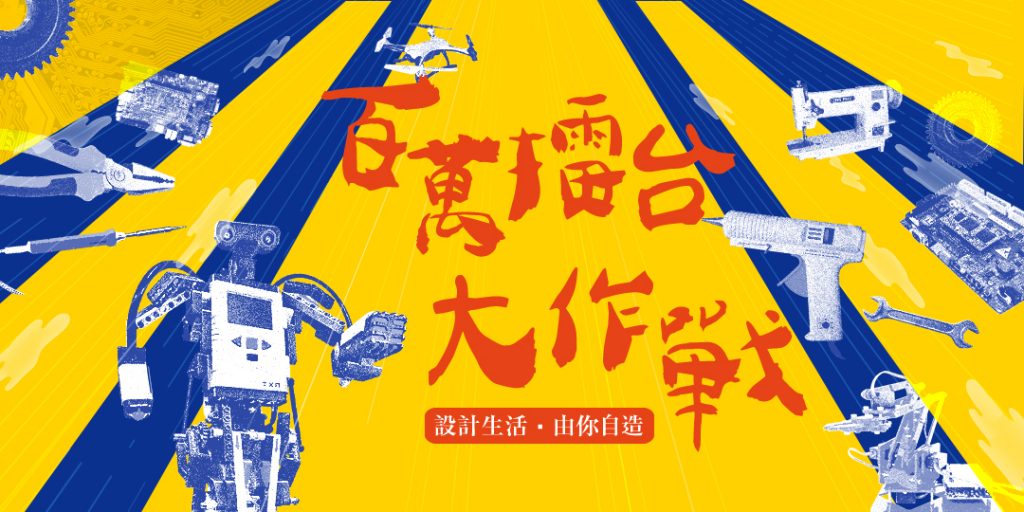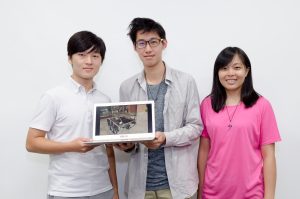 Team Name: Carrier
Product: Electric Track Dynamic Platform
Features:
1. Continuous tracks: Besides having a strong grip, the continuous tracks are also large in contact area. They can adapt to different slopes and increase negative weight, making transportation easy on not just plain areas but various other terrains, satisfying all kinds of transportation needs.
2. Resource transportation during rescue missions
3. Prevents occupational injuries (The problem of aging farmers)
4. Brings people closer (toys for adults)
Team Name: Billy N Design (比理恩設計)
Product: Turning Mattress
Content:
The air mattress is a rather mature product even though it's not designed for people with disabilities. Most air mattresses are designed for leisure only. Our product is specifically designed for people with disabilities who have to lie down all the time.
Features:
1. When put on a hospital bed, the Turning Mattress can help the patient turn sideways that hospital beds can't do, is compatible with electric or foot air pumps in the market.
2. Suitable for homes too, compatible with existing products, no need for any replacement of current products; budget friendly.
3. Two-layer design
a. Base: Medium flat, for comfortability
b. Surface: When inflated, angles will form on the mattress, which makes turning over easy; caretakers can easily assist in turning over, changing clothes and making beds, preventing bedsores.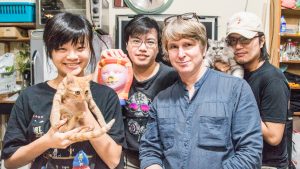 Team Name: RAPS
Product name: RAPS
Features:
The air purifier developed by this proposal will focus on the following achievements:
1.Compatible with most full face motorcycle helmets.
2.This air purifier can effectively filter out outside air and provide good air quality.
3.Supplies air to raise comfortability inside the full face helmet.
4.Perfect weight and counterweight to maintain the external comfortability of wearing full face helmet.
5.This device does not affect the safety of wearing full face helmet.
To provide clean air to drivers wearing full face helmets, all costs have been controlled so this product is affordable to everybody.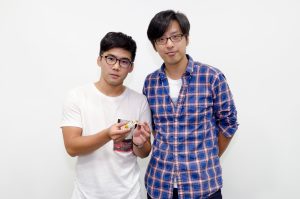 Team Name: Rongseng Laboratories Team A
Product Name: WAVE Wristband
Features:
The entire WAVE wristband is soft and bendable, and it ensures the lifespan of its electronic components. Anybody can write apps for WAVE with the friendly Arduino Development Environment. We will also provide a WAVE Library to assist the makers with the assignments and gestures of the wristband.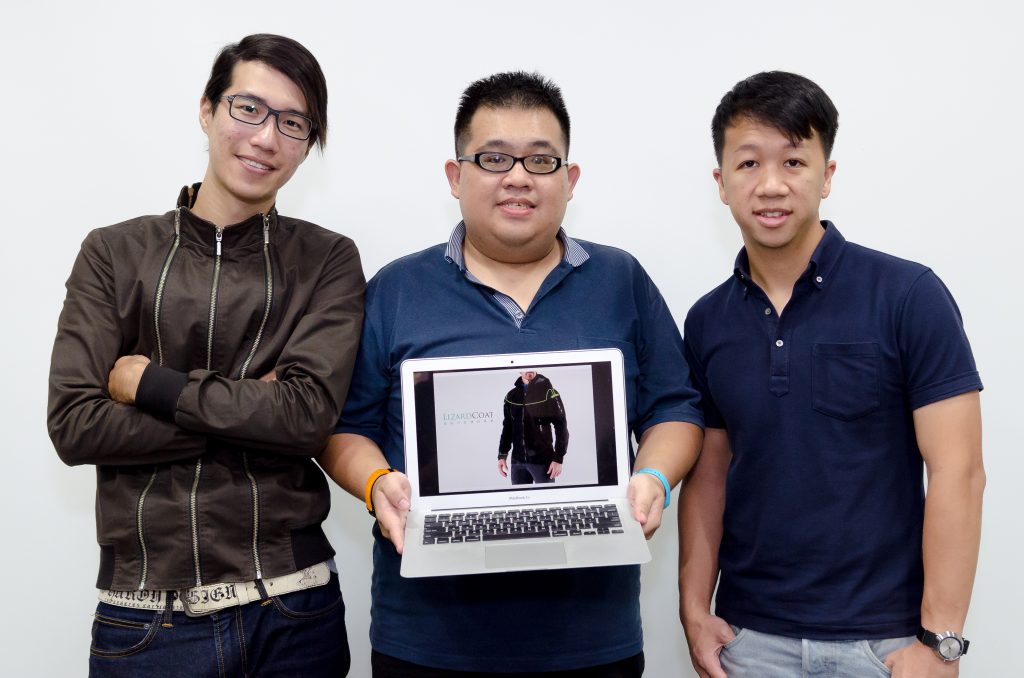 Team Name: LizardCoat
Product Name: LizardCoat
Features:
This smart coat is the first product to integrate advanced mountaineering fabrics and body sensor with LED display. It is also able to control the bleeding in case of emergency, and send distress signals, without any external devices. It is the integration of technology and clothing.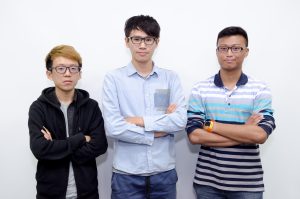 Team Name: RobotKang
Product Name: RobotKang Exoskeleton
Product Content:
An external lightweight structure worn on the human body that adapts to the user's movements. It can be used to increase stability or help body training. It can also improve work performance and prevent occupational injuries. It comes with various modules to suit different working environments and demands.
Features:
With the IoT sensor, the exoskeleton module is able to record movement data, save it to the database, and give it to the operator, administrator and researcher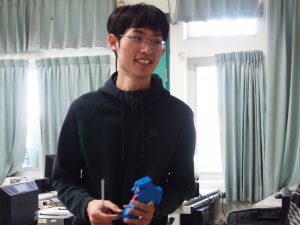 Team Name: VR Electric Skateboard
Content Introduction
Product Name: Integration of the Smart Device and Application of Skateboard
Product Content:
A regular skateboard equipped with an electronic device to turn it into a smart skateboard with more features. Through easy steps of assembly, it instantly serves as a dynamic transportation that works with VR technology to become a video game motion sensor.
Features:
A skateboard endowed with many functionalities according to the user's demands. It can be a dynamic skateboard or an integration of VR technology, or both. All can be achieved easily with a few simple steps of assembly.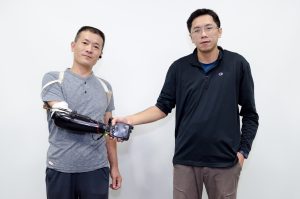 Team Name: TGH Social Science Group
Product Content:
The research of the Open-source Electric Prosthetic Arm manufactured locally in Taiwan is designed with the requester, so we can build an electric prosthesis that suits his daily life. All drafts, circuit diagrams, scripts, procedures are fully open on the Taiwan God Hand official website (http://www.twgodhand.com). We hope that with this website, more requesters can find the right prosthetic arms for them.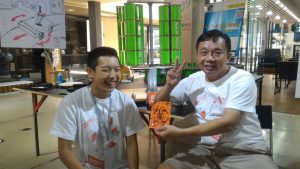 Team Name: Weituo Dynamics (威拓動力)
Product Content:
Most multirotors in the market are only powered by batteries, and due to low carrying capacity, low battery life, long charging time and other reasons, they can't effectively carry out the mission of illuminating from the air; our drone has a groundbreaking carrying capacity while flying, even longer flight time, and equipped with an even bigger illuminating hardware. It also has its own power generator and storage system, so it's able to provide illumination with ample and stable power supply while on duty.
Team Name: Southern 3+1 (南方三缺一)
Product Content:
Designed to be electricity-free, this product has a lightened motor and dynamic mechanism, to focus on power generation by manually pushing or pulling. With simple mechanism and the notch design of the inner wheels, the amount of seeds can then be controlled. The space between notches gives the seeds the proper distance for being sowed, so they can be thinned out and have space to grow. Our team chose to build a seed drill that is light, cheap, effective and has simple mechanism.
Feature:
Adding the quality of lightweight into the farming tool, to build a seed drill with high mobility, so that people can sow on farmlands with drains or irregular shapes with ease.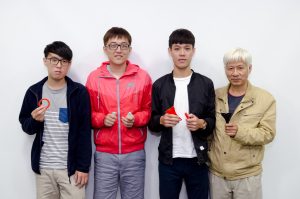 Team Name: Double Ratcheting Wrench
Features:
1. The design language is to make a ratcheting wrench that produces driving force whether you turn it clockwise or counterclockwise, doubling the efficacy and speed of the ratcheting wrench.
2. Making use of the epicyclic gearing, we are able to reduce the mechanism space, keeping the product small in size so it fits in working environments with limited space.
3. The Mobile Fastening Mechanism is more than just a universal socket, it can also be used on electrical tools to fasten various drills. Insert the drill onto it, and the dynamic energy of the electrical tool will fasten the drill. It saves the trouble of changing drills and once it is on the center it will stay there. It can also be used on robotic arm automatic tool changer.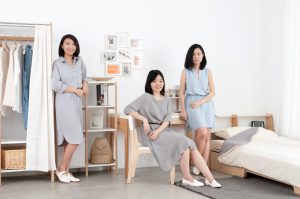 Team Name: GOGO Furniture
Features:
Fashionable: Furniture with simple design to improve your living environment.
Easy to carry: We revamped the size of furniture, so that anyone can move easily with just a van by himself.
Easy to assemble: The amount of screws has been reduced. You can now assemble your furniture with ease.
Great materials, all made in Taiwan: Birch veneer with low formaldehyde and matched with metal, Taiwan's excellent manufacturing will sure bring quality to your place.