Do you want to be a maker, get to know the maker community, find maker inspiration, or hang out with other makers? We have put together a list of hands-on maker activities over the coming week. Mark them on your calendar and don't miss them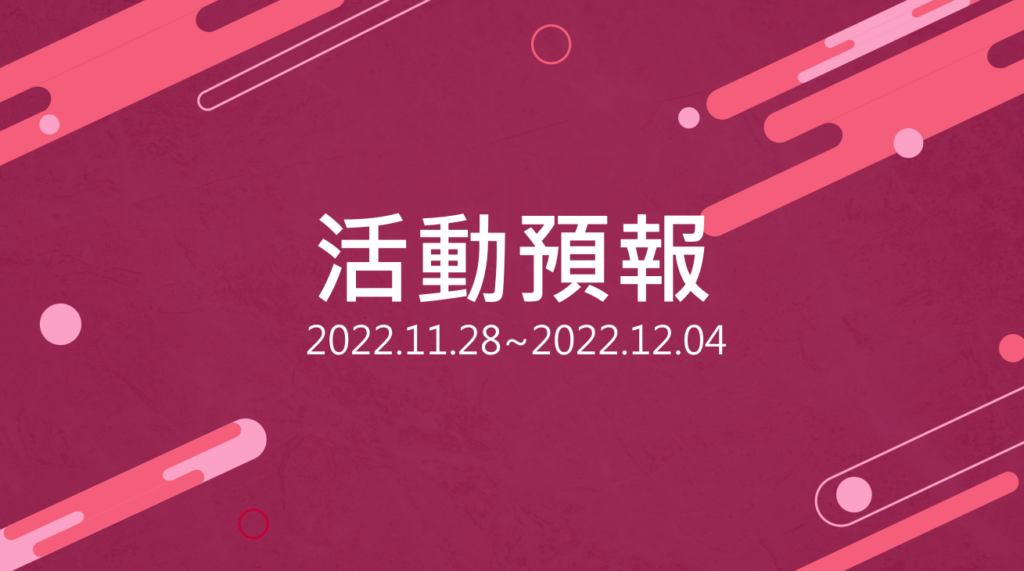 Wednesday, Nov 30
AI Enginner from the Beginning- Project Development for Career
Organizer: TibaMe
Venue: To be conducted online. Live stream link to be provided upon registration.
Time:  20:00 ~ 21:00, 11/30
Thursday, Dec 1
National Heath No.1 Supercomputer- Launch on AI Healthcare Innovation Center
Organizer: ASUS Cloud
Venue: No. 1, Jingmao 2nd Rd., Nangang Dist., Taipei City, Taiwan
Time: 15:30 ~ 17:00, 12/01
[FLUX Forum] Laser-cutting for New Businesses!
Organizer: FLUX Taiwan
Venue: Detailed as specified yoru ticket
Time: 19:00 ~ 16:00, 12/01 ~ 12/17
Saturday, Dec 3
Christmeas Season around the Corner: DIY Programs (weekend sessions)
Organizer: TWINBASE
Venue: 7F., No. 53, Ln. 19, Tonghua St., Da'an Dist., Taipei City, Taiwan (near MRT Xinyi Anhe Station)
Time: 13:30 ~ 15:00, 12/03 ~ 12/24
Christmans Flower Class- DIY Christmas Tree
Organizer: Flower Space
Venue: 1F., No. 43, Sec. 4, Keelung Rd., Da'an Dist., Taipei City, Taiwan
Time: 13:00 ~ 17:30, 12/03 ~ 12/18
Christmans Flower Class- DIY Wreath
Organizer: Flower Space
Venue: 1F., No. 43, Sec. 4, Keelung Rd., Da'an Dist., Taipei City, Taiwan
Time: 13:00 ~ 17:30, 12/03 ~ 12/18
Sunday, Dec 4
[2022 Fun Craftmanship] Loom Weaving Program
Organizer: Taiwan Craft School
Venue: No. 9, Songshou Rd., Xinyi Dist., Taipei City, Taiwan (9F., Shin Kong Mitsukoshi, Taipei Xinyi Place A9)
Time: 13:00 ~ 21:00, 12/04