by Yun-Han Lin
Angle steel is commonly seen in Taiwan, and screwless ones are even more suitable for DIY furnishing at home. Recently, our studio has been working on furniture using angle steels, and the following are a few thoughts we would like to share with you!
Angle steel with and without screws
Today, we will focus on the ones without screws. Those with screws are more often used in the old days where holes were drilled on the iron bars, and screws were fixed using nuts. Although the cost was low, the assembly was troublesome, not to mention the poor support for huge weights. As time went by, angle steels without screws have a more mainstream appeal. With built-in snap-fits, users can fix the parts using merely a rubber hammer. The price is higher, but the assembly is easy, and with greater weight support comes with more diverse usages.
Practical but not at the cost of styles
Traditional angle steels are used for large shelves found in factories or at schools, and they usually came in either a galvanized metal color or glossy white that is cheesy. As companies are putting more efforts in improving packaging today, matte black (with powder coating) has become a signature style for all manufactures. This model is modern and simple, and it highlights the texture and color of the wood boards. There are also bright colors, such as the ruby red shown below.
(The pictures below show designs by two different manufacturers- Amborack & CiaZhan)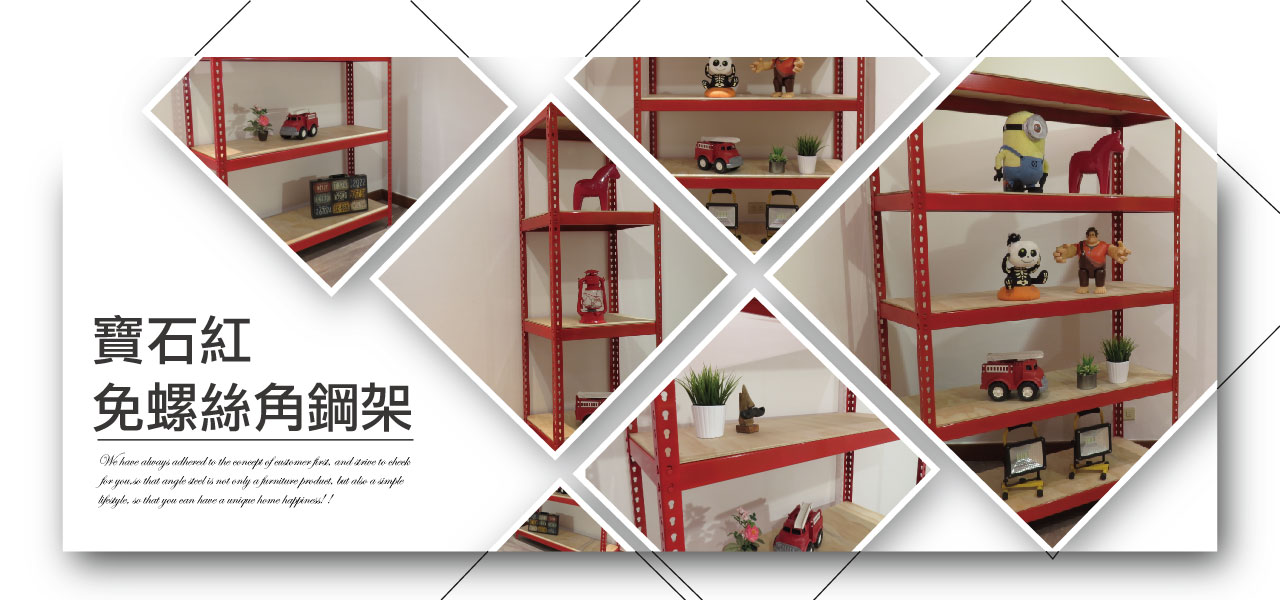 Advantages
1. Supporting huge weights: Products by different brands come with different capacity, but the load-bearing capacity of each board is at least 200 to 300kg. They provide sufficient storage for both households and workshops.
2. Customized size: The holes on the bar are drilled with 15cm between each one, and the width and depth range from 30 to 180cm. The height can vary from 30 to 300cm. These racks can also serve as cabinets and tables of various sizes.
3. Various choices for hardwood shelves: With the increasing needs from the general public, there are particle boards in different colors, in addition to the cheap and simple plywood for just any simple rack.
(The picture below shows chipboards in different colors by Happy Rack)
4. Easy assembly: Since there is no need for screws, a rack of any size can be assembled by only one person. With all kinds of instructions and videos on the Internet, anyone can put together a desk within 10 minutes.
5. All kinds of accessories: There are also accessories that can go with your steel racks. For instance, basic wiring holes, adjusting supports, wheels, hanging frames that add to the elegance, sealing plates that cover the whole frame as baffles, wire mesh (nets that can be fixed onto the frames for hanging thing), iron bars without holes, which looks better if you get tired of the traditional bars with drilled holes.
6. Models of all specs: Angle steel models can be customized, and each company can provide customers with different samples for their reference, where they can view up to 80% of different applications of angle steels. There are model graphs as shown below or the pictures of end products received by customers.
(The pictures below show models by Happy Rack)
The only concern- angle steels can be a little expensive
Take desks for instance. Consumers usually opt for the LAGKAPTEN/ADILS series from Ikea, which is more economical. The spec of this model is 140x60x73, and it costs about NT$1,290 at Ikea, while the one with the same spec but made with angle steels costs at least NT$2000 to 3000. Despite the cost twice as much, the angle steel one has all the advantages that Ikea model does not possess.
(The following graph displays the specs of products by Amborack)
Conclusion
Angle steels are really handy! Were it not for the limited budget, I would want to have all the frames and furniture in the studio made with angle steels. Actually, I'm building two shelves now, and I will share the process of production with you as soon as I finish them.