by Shu-Yu Liu
Makers build a variety of works to give people a more convenient life. They put ideas into practice through buildings things on their own. Laser cutters, 3D printers, and CNC machines are tools that Makers often find handy.
Laser cutters
Laser cutting works by directing a high-power laser at an object surface. The focused laser beam heats up and then burns the object surface, leaving an edge or even cutting through the object. A laser cutter is fully electronically controlled. Due to the prevalence of computer graphics, laser cutting is often used in various process industries. It not only functions with high efficiency and precision but facilitates cutting objects of different materials, with smooth and neat cut surfaces.
Aurora Group is a brand in Taiwan well-known for manufacturing laser cutters, yet those from other brands share pretty much the same quality. This July, Cubiio launched a crowdfunding project for their laser cutter- Cubiio 2. It is known as the lightest cutter in the world and has received more than NT$55 million of funds since it went online.
3D printers
If you change the ink in a printer to materials that harden after spraying and set the nozzle from a 2D-based movement to 3D, you have a prototype 3D printer. 3D printing features molding using computer-aided design (CAD) or computer animation, and a three-dimensional model is split into layers of cross-sections. Then the cross-section data will be input into the printer as the sections are printed out in layers before they are put together to build a three-dimensional object.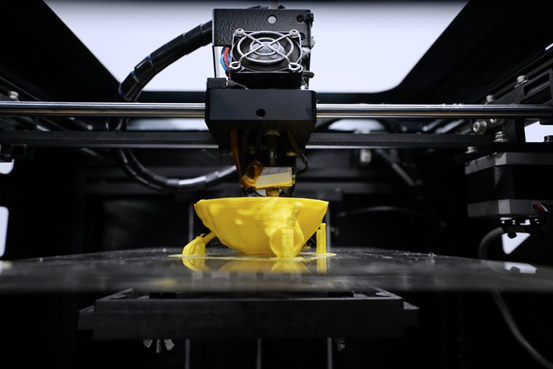 Linkin Factory and INFINITY3DP are prestigious 3D printer brands in Taiwan. There are 7 types of fusion techniques that include selective laser melting (SLM), stereolithography (SLA), fused deposition modeling (FDM), etc. 3D printing can be used in producing large-size models and it is fast, but the cost is rather high. FDM, however, has a low entry barrier, which makes it popular in the market when it comes to 3D printing.
CNC machines
CNC usually refers to a computer numerical control that functions like lathes, milling machines, and grinding machines. A CNC is controlled by a computer, according to specific input instructions through the use of CAD.
AWEA and Tongtai Group are famous manufactures of CNC machines in Taiwan. Due to the prevalence of Maker culture, many companies have tried to develop desktop or portable CNCs. For instance, VilleSmart launched two types of portable CNC engraving machines that feature different precision options. They are small and portable, and they support wireless connections, which allows automated productions through IoT devices.