by Wen-Pei Wang
With the advancement and development of technology, in addition to traditional instruments, there can also be innovative instruments built using various programs, sensors, Arduino boards, 3D-printing technology, etc. The following are two stories of Makers building instruments from their enthusiasm for music.
New Path for Maker hart in the New Era
A few years ago, most original equipment manufacturers (OEM) in Taiwan relocated their factories to China, which influenced the market and businesses for Maker hart, a former manufacturer of musical instruments. Most OEMs had no choice but to cut down the product price and face the loss of orders. Yet, it was about the same period that William Shaw, the founder of Maker hart, began to learn programming languages for iOS. Most applications are designed to be user-friendly, which matches Shaw's passion for music and the quality for ideal musical instruments in his mind. That was when Shaw started to bring together musical instruments and technology.
EU-ONE, an electronic ukulele, is the first product developed by Maker Hart using sensors and Arduino boards, coupled with applications also made by Maker Hart. EU-ONE, an electronic instrument with the combination of various string instruments, features an array of string sounds, play modes, and drum modules. Using the same technology, Maker hart continues to develop electronic violins, electronic cellos, electronic pianos, etc., and the source code for all these products is released, based on which enthusiasts from all walks are welcome to play with notes and create their own music.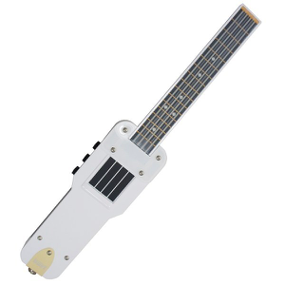 joyMIDI- Palm-sized Music Controller
For people to create their own music anytime and anywhere, Soundless Studio has developed joyMIDI, a portable palm-sized controller. Ozzy, the founder of Soundless, talked about how the product came into shape, as he got the idea from electronic pianos, DJ booths, and drum pad machines. This gadget can be connected to mobile phones, tablets, and computers for music creation, and it allows users to share and co-produce music on the Internet or through applications. In addition, there are the joystick mode and the pad mode that functions with keyboards and mice.
Despite all these achievements, Ozzy has spent 2 years trying 7 different versions to build the perfect model in his mind. He started out with the size as big as vinyl records to the palm-sized gadget we see today. The process along the way was exhausting and Ozzy almost gave up as he worked on every revision, but his face always lights up every time he talks about joyMIDI as he says, "this is the smallest digital music controller ever!"
joyMIDI- palm-sized music controller (Source: Soundless Studio official website)
Conclusion
When people feel like playing some music, it is a bit hard for everyone to learn the traditional musical instruments, as they may have to take lessons and spend a lot of time practicing. In comparison, with the new forms of musical instruments mentioned above, playing and enjoying music have become so much easier for everyone.