By Jia-Jheng Yeh

With the spread of COVID-19 in Taiwan, more than 100 cases have been diagnosed, and there is growing anxiety among the public. Meanwhile, how to respond to the outbreak and protect oneself from the disease has become one of the issues that the public is concerned about.
Self-made infrared imaging thermal camera to monitor students' temperature
A thermal imaging camera is often costly and many companies or educational institutions are unable to afford one due to limited budgets. In response to the outbreak, New Taipei Municipal Jhangshu International Creative Technical High School (JICTS), New Taipei Industrial Vocational High School (NTVS), and New Taipei Municipal Yingge Vocational HIgh School (YKVS) worked together to develop a project- Infrared Thermal Camera: Self-made Information-based Electronic Response through Inter-school Cooperation. The project is led by six professionals who have participated in international competitions in hardware development, personal computer systems, web pages, and applications. One feature is the thermal imaging that will set off an alarm signal when a student with fever is detected. The teaching faculty can use playback functions to locate the students with abnormally high body temperature and refer them to local health departments.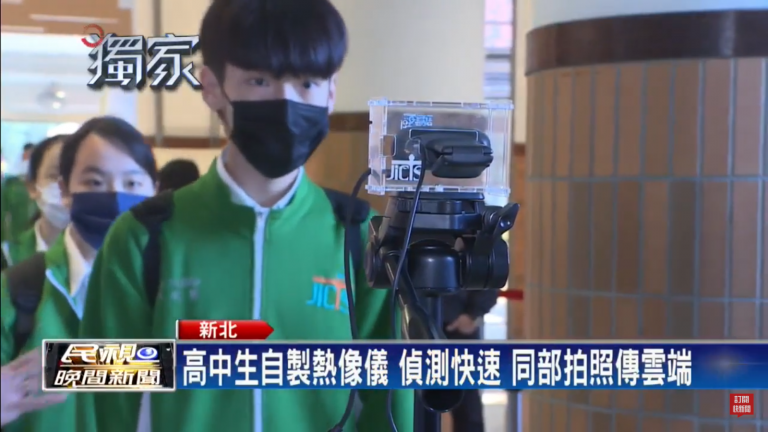 Chief of village designing disinfectant tunnel to safeguard students' health
"Children's immune systems are not as strong as adults. Students usually study, play, and move together. It is easy to spread the virus once a student catches a cold. So an automatic tunnel is designed to spray disinfectant."
The village chief of Wulin Village, Longtan District., Taoyuan City designed a disinfectant tunnel to safeguard the health of teachers and students at Chian Long Elementary School. The tunnel features advanced nozzles that spray fine water mist that is hypochlorous acid at a concentration of 50ppm. Students find it interesting to go through the tunnel as in a playground, while the school can actually monitor students' temperature and teach students the importance of washing their hands frequently. Any students detected with flu-like symptoms will be referred to doctors immediately.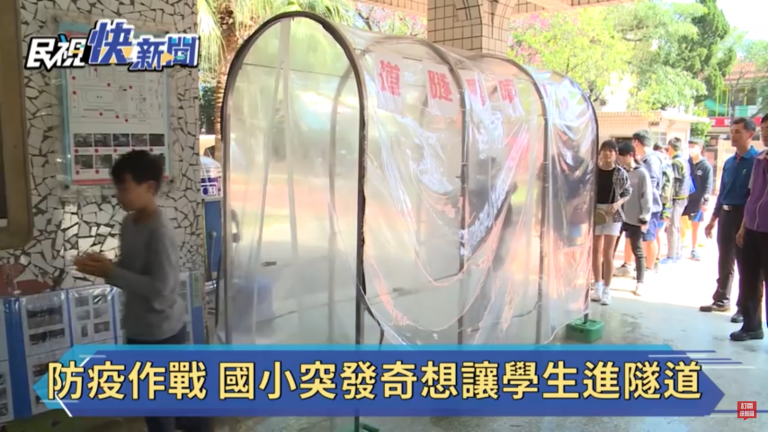 Disease prevention- DIY disinfection spray
As disease outbreak escalates, there is a shortage of masks, alcohol, and disinfectants. Some businesses even take the opportunity to drive up prices of daily commodities. In fact, there are many ways to make disinfectants. One is homemade silver ion disinfectant, which is tasteless, non-toxic, and harmless to human skin. It can be used on clothes, furniture, or even tableware. Another is chlorine dioxide that can be used for cleaning, deodorizing and sanitizing. At present, chlorine dioxide is often used to sanitize medical equipment, supplies, and surgical tools.
Conclusion
As COVID-19 breaks out, people all over the world spare no effort in preparing to offer response. Washing hands and wearing masks have become a common habit. Although the disease may continue to spread, and there is a continuous shortage of masks and disinfectants, countless Makers are putting their knowledge and skills into practice to carry out projects and help fight the disease.