Do you want to be a maker, get to know the maker community, find maker inspiration, or hang out with other makers? We have put together a list of hands-on maker activities over the coming week. Mark them on your calendar and don't miss them!
Wednesday, February 19
[Makerinn]- Wooden Laser-cut Clock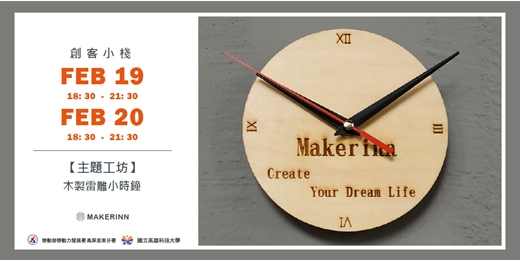 Organizer: Kaohsiung-painting-Penghu-Taitung Regional Branch, Workforce Development Agency, Ministry of Labor
Venue: Makerinn (Kaohsiung Branch)
Time: 18:30 ~ 21:30, 02/19 ~ 02/20
Thursday, February 20
Programming Language x Lego
Organizer: Yilian Technology
Venue: 3F., No. 1, Aly. 7, Ln. 423, Zhuangjing Rd., Xinyi Dist., Taipei City, Taiwan (across from Taipei Municipal Xinyi Junior High School; near MRT Xiangshan Station)
Time: 10:00 ~ 15:00, 02/20 ~ 02/21
[Maker Hatch Day] Drones in Agriculture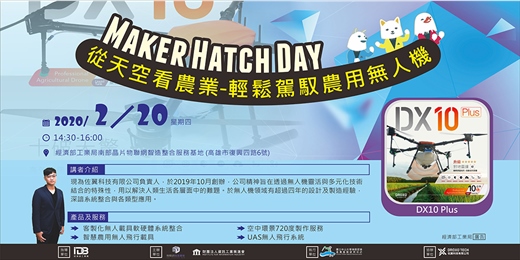 Organizer: Southern Taiwan IoT Service Hub, Industrial Development Bureau, MOEA
Venue: No. 6, Fuxing 4th Rd., Qianzhen Dist., Kaohsiung City, Taiwan
Time: 14:30 ~ 16:00, 2/20
Saturday, February 22
[Makerinn] Woodcraft 101– Tools to Use!
Organizer: Kaohsiung-painting-Penghu-Taitung Regional Branch, Workforce Development Agency, Ministry of Labor
Venue: Makerinn (Kaohsiung Branch)
Time: 09:00 ~ 12:00, 02/22
Sunday, February 23
[Makerinn] Parent-child Coaster
Organizer: Kaohsiung-painting-Penghu-Taitung Regional Branch, Workforce Development Agency, Ministry of Labor
Venue: Makerinn (Kaohsiung Branch)
Time: 13:30 ~ 16:30, 02/23
Techie Sharing- 5G Generation x Application x Entrepreneurship
Organizer: Techie
Venue: No. 468, Ruiguang Rd., Neihu Dist., Taipei City, Taiwan
Time: 13:00 ~ 18:00, 02/23
Coder Blogathon- 7-day Coding with Innovation
Organizer: CoderBridge
Venue: Coder Blogathon events will be held online
Time: 00:00 ~ 23:55, 02/23 ~ 02/29