Do you want to be a maker, get to know the maker community, find maker inspiration, or hang out with other makers? We have put together a list of hands-on maker activities over the coming week. Mark them on your calendar and don't miss them!
Monday, October 21
AWS Cloud Big Data Computing (Kaohsiung Session)
Organizer: Small and Medium Enterprise Administration, Ministry of Economic Affairs
Venue: 6F., No. 274, Zhongzheng 4th Rd., Yancheng Dist., Kaohsiung City, Taiwan (Rm. 610, International Convention Center Kaohsiung)
Time: 19:00 ~ 22:00
Wednesday, October 23
Python Visual Analytics x Devstars Lighthouse
Organizer: Happy Coding
Venue: 8F., No. 1, Taoyuan St., Zhongzheng Dist., Taipei City 100, Taiwan
Time: 19:00 ~ 22:00
Nextlink Technology- Cloud Business using AWS & Tableau
Organizer: Nextlink Technology Co., Ltd.
Venue: No. 275, Lequn 2nd Rd., Zhongshan Dist., Taipei City, Taiwan (Cloud 9 Studio)
Time: 14:00 ~ 16:30
dC Talk Meetup- AR VR Technology x Interactive Technology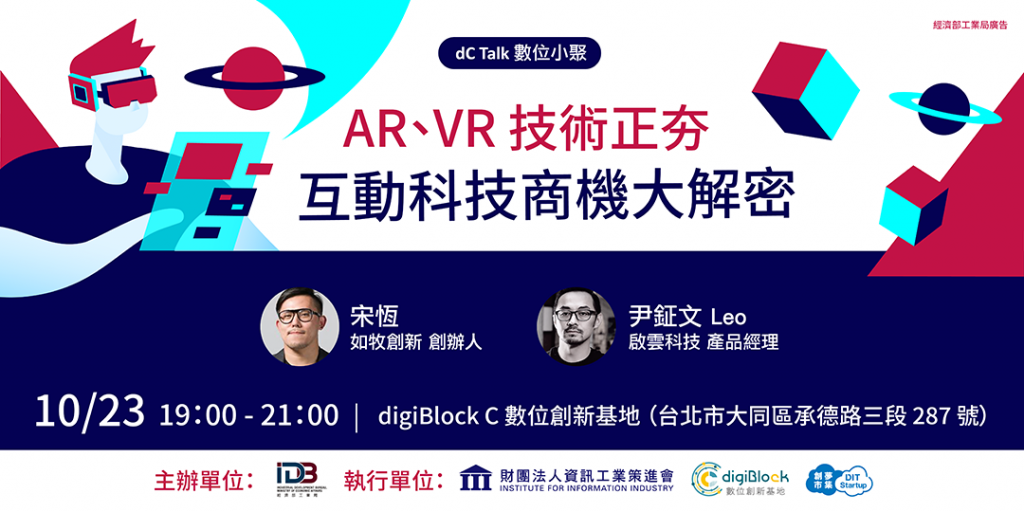 Organizer: Industrial Development Bureau, MOEA
Venue: 1F., Bldg. C, No. 287, Sec. 3, Chengde Rd., Datong Dist., Taipei City, Taiwan (digiBlock C, Taipei)
Time: 19:00 ~ 21:00
Thursday, October 24
OpenVINO™ Forum- Edge AI Application x R&D
Organizer: Sertek
Venue: No. 1, Sec. 3, Zhongxiao E. Rd., Da'an Dist., Taipei City, Taiwan (2F., Rm. 201, Everlight Bldg., GIS TAIPEI TECH Convention Center)
Time: 13:30 ~ 16:30
5G Application- Future Smart City
Organizer: Business Next
Venue: No. 168, Minzu Rd., Banqiao Dist., New Taipei City, Taiwan (Chunghwa Telecom Academy)
Time: 13:00 ~ 17:00
Digital Transformation through Innovation (Taichung Session)
Organizer: Galaxy Software Service
Venue: No. 17, Gongyequ 27th Rd., Nantun Dist., Taichung City, Taiwan (1F., Training Room, 2nd Office, Precision Machinery Research & Development Center)
Time: 13:00 ~ 17:00
Smart Clothing- Future x Application
Organizer: ITRI College
Venue: 9F., No. 110, Xianfu Rd., Taoyuan Dist., Taoyuan City, Taiwan
Time: 09:00 ~ 16:00
Friday, October 25
GCS x SoftChef- AIoT Application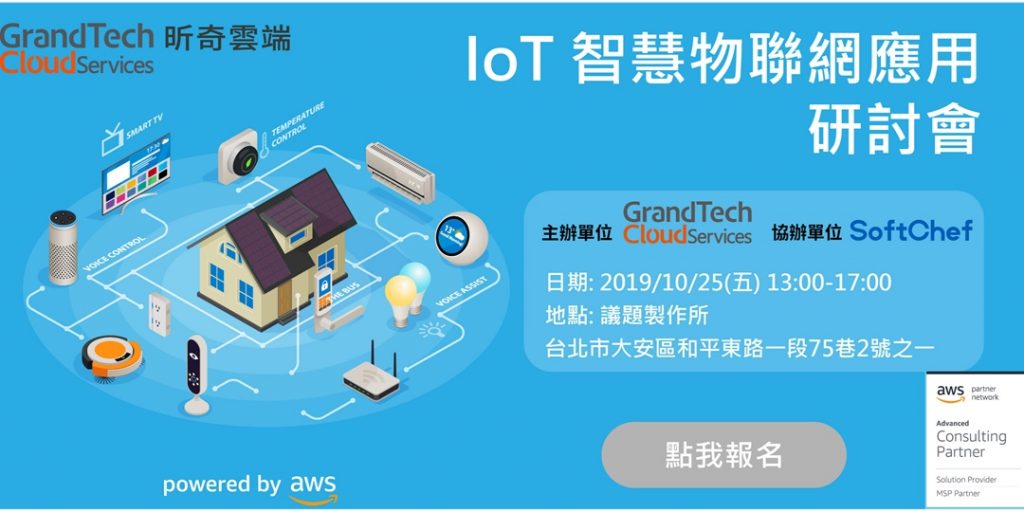 Organizer: GrandTech Cloud Services (GCS)
Venue: No. 2-1, Aly. 75, Sec. 1, Heping E. Rd., Da'an Dist., Taipei City, Taiwan
Time: 13:00 ~ 17:00
[Big Data] Maker's Meetup
Organizer: VOS LAB
Venue: 18F., No. 502, Sec. 2, Ren'ai Rd., Linkou Dist., New Taipei City, Taiwan (Startup Terrace A6)
Time: 09:00 ~ 11:30
Saturday, October 26
Maker Faire Taipei
Organizer: Robot Kingdom
Venue: No. 1, Sec. 1, Bade Rd., Zhongzheng Dist., Taipei City, Taiwan (Warehouse 4A, Huashan 1914 Creative Park)
Time: 10:00 ~ 18:00, 10/26 ~ 10/27
Digi-Empowerment- Techn Innovation in Industry
Organizer: Rotary Youth Program Nan-Kang, Rotary International District 3523
Venue: No. 12, Ln. 145, Dunhua N. Rd., Songshan Dist., Taipei City, Taiwan (Wooju Event Space)
Time: 14:30 ~ 18:00
Sunday, October 27
2019 TAxT- Echoing in Nature
Organizer: Dept. of Cultural Affairs, Taoyuan City Government, Art Facilities Management Center, Taoyuan
Venue: No. 1188, Zhongzheng Rd., Taoyuan Dist., Taoyuan City, Taiwan (1F., Lobby)
Time: 14:00 ~ 17:00
Machine Learning- AI Application
Organizer: Chinese Digital Technology and Training Center
Venue: 9F., No. 2, Sec. 1, Kaifeng St., Zhongzheng Dist., Taipei City, Taiwan
Time: 09:30 ~ 17:30, 10/27 ~ 11/03
[AIOT]- 2019 ARM LoRa Information Communication
Organizer: Chinese Digital Technology and Training Center
Venue: 9F., No. 2, Sec. 1, Kaifeng St., Zhongzheng Dist., Taipei City, Taiwan
Time: 09:30 ~ 17:30, 10/27 ~ 11/03