by Pei-Hsuan Lai
After the launch in 2009, Kickstarter, the world's largest fundraising platform, crowdfunding has become viral around the world. Proponents introduce their plans, designs, products, etc. to the public through platforms to attract potential donors. For entrepreneurs who have ideas but lack funds, fundraising can be a silver lining in the cloud.
That being said, crowdfunding is not as easy as people think. Proponents must explain their ideas to potential sponsors in any means necessary to gain trust for funding. After that, production is where the real work begins.
FLUX 3D-Printer
In November 2014, a team of students from National Taiwan University launched FLUX, an east-to-use 3D-printer, especially for beginners. In less than 3 hours since its launch, FLUX attracted its targeted $100,000 on Kickstarter, and in the following 40 days, the number amounted to $1.64 million (about NT$52 million).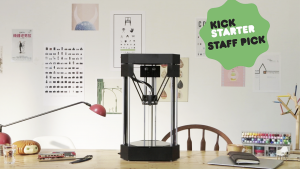 However, the team had zero experience in manufacturing, and there was much to do from designing the prototype to mass production. In addition to countless revisions to hardware, the time and resources required when it comes to design, production, inspection, shipment, and sales were far beyond the team's expectation.
Fortunately, the team insisted on updating the progress and showcased models on a regular basis to give their sponsors assurance. Up until April 2016, the first-generation FLUX 3D-printers were launched and shipped to 64 countries, and they all received positive reviews from users around the world.
Glowforge—Desktop Laser Cutter
Glowforge, based in Seattle, USA, launched its Desktop Laser Cutter in late September 2015. Users can print, engrave, and laser-cut using various materials. With 2 built-in cameras that calibrate the thickness of cutting based on materials used, this innovative model received $27.9 million in 30 days and accumulated $45 million (about NT$1.46 billion) within one year, attracting nearly 13,000 sponsorships.
Yet, the shipment was made up of a series of twists and turns. In the beginning, Glowforge promised the buyers who pre-ordered in the first month that they can receive their order by December of same year, but the delivery was postponed until March 2017. Although Glowforge delayed its shipments for two times, its charm had not diminished, as many users have been sharing their creations and user-experiences on social media.
Conclusion
In recent years, crowdfunding has helped countless individuals and teams with ideas raise capital, but the real hard work starts after securing the fund. Mass production and shipment can take a lot of effort as well. We all look forward to more creative products and activities on different platforms to bring in a new vitality to boost the economy.