by Yun-Han Lin
This design is based on the design by Chi-Cheng Lin. Mr. Lin used straws and 3D-printing parts to build all kinds of walking robots, and he is willing to share the entire process of assembly and open source files for his design. For more details on Mr. Lin's work, please watch our video. As 3D-printing takes a longer time to build the parts, we decided to use laser cutting, instead.
3D Drawings & Linkages
Bionic hexapods made with straws are usually two dimensional, whose joints are fixed with screws in instead of straws. However, a laser-cut crankshaft does not work well on a TT motor, so we could rely only on 3D-printing for the crankshaft, but it takes almost 30 minutes to print only a set of crankshafts.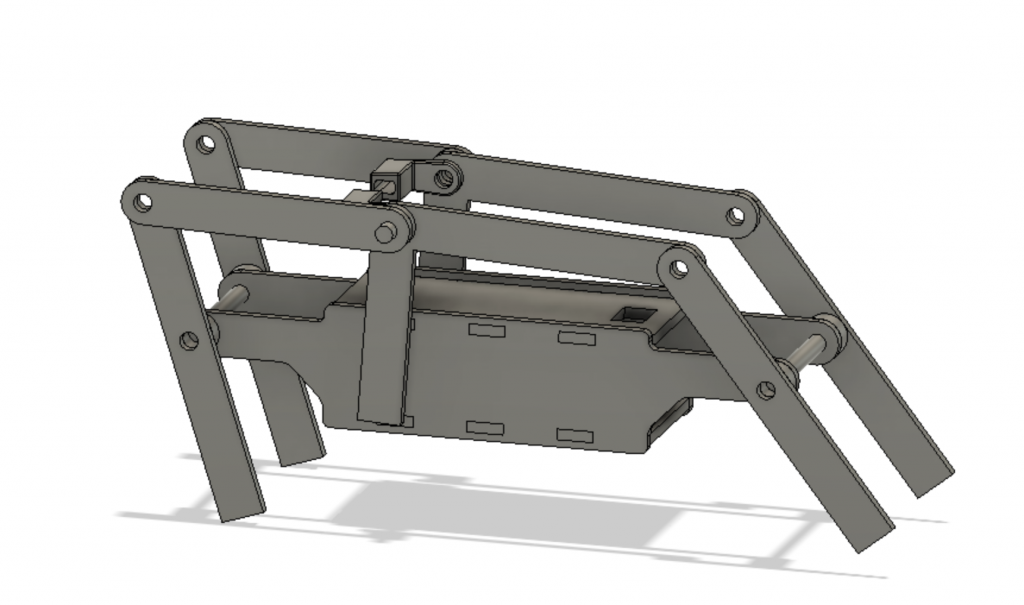 Linkages are the key to the smooth movement of a hexapod. Therefore, we adopted Mr. Lin's design and scaled up the original a little bit.
Materials & Tools
Materials
• 3mm laser cutting board (30*20cm) *1
• M5 screws: 15mm *6; 10mm *4
• M5 nylon nuts *8 (or regular nuts)
• TT motor *1
• 2AA battery holder *1
• AA batteries *2
• 3D-printed crankshaft
• Rocker switch *1
• Single core wire
• Twist-on wire connectors *4
Tools
• Wood glue or white glue
• Hot glue or double-sided tape
• Screwdriver
• Needle-nose pliers (required if nylon nuts are used)
• Welding torch
Assembly
Process of assembly can be found in our video, so here are some tips and details that we believe you may find useful:
In the past, we used insulating tapes, but they come loose easily. Because of that, we use twist-on wire connectors, instead, which are user-friendly even for children.
If you use regular nuts instead of nylon ones, make sure to use hot glue to fix the nuts and the screw, so the nuts will not loosen during assembly. Leave some space between the nuts and the plates.
The direction of the screws are random, as long as it's easy for you to tighten them and will not hinder the assembly of other parts.
The battery holder will be placed inside the body, so an external switch is required to make operation easier. This adjustment is slightly different from Mr. Lin's original design.
Advantages
The most outstanding feature of this design is that it's time-saving (laser-cutting can be done within 10 minutes), and users can change the shape of the body and limbs at will. In this way, there is more flexibility in the width and length of each part, while the changes made do not hinder operation.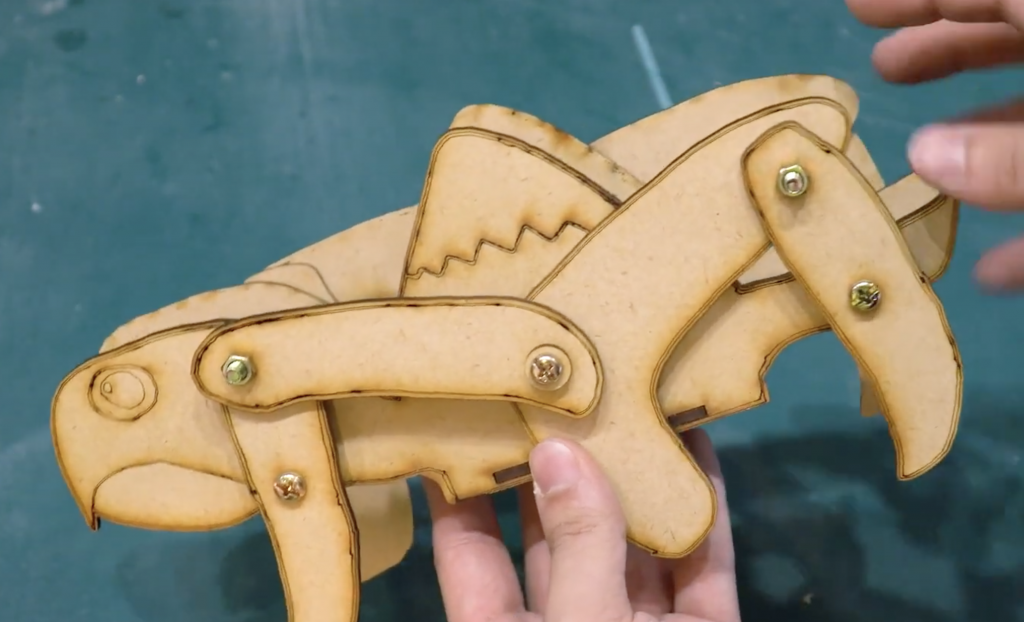 Twist-on wire connectors are also better than insulating tapes in holding the wires. The only problem was that the wire could be too long sometimes, so insulating tapes are still needed to fix the extra wires to the body part.
Conclusion
This model is an extension from Mr. Lin's work, so we will also make the design detail publicly available. Information on operation will also be included in the manual for reference. Any suggestions and comments are welcome, and feel free to modify our design should you encounter any problems during assembly!